Futuristic €450 million yacht freed from arrest in Gibraltar; heads for Cartagena
Saturday, February 25th 2017 - 10:52 UTC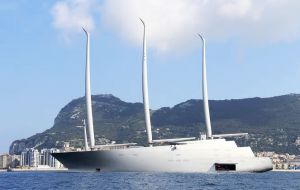 The futuristic €450 million yacht at the centre of a €15.3m legal wrangle has been freed from admiralty arrest and sailed from Gibraltar early Wednesday morning. Sailing Yacht A weighed anchor at around 8.30am and sailed from the Bay of Gibraltar in rough seas bound for the Mediterranean, reports the Gibraltar Chronicle.
The vessel will head to the Navantia shipyard in Cartagena, where it will undergo further sea trials as the internal fit-out continues before final delivery to its owner in late spring.
Sailing Yacht A was arrested a week ago over an admiralty claim filed by German shipbuilder Nobiskrug against Valla Yachts Limited, the vessel's Bermuda-registered owner.
It was freed nearly a week later after lawyers for both parties agreed the terms of a financial security pending resolution of the admiralty claim and other matters that are under arbitration in London.
Nobiskrug claims the final €9.8m payment of a shipbuilding contract between the yard and Valla Yachts was due on January 27 but has not been paid.
Nobiskrug is also claiming sums of €2.6m and €2.9m which, according to court documents, are already the subject of arbitration proceedings between the yard and Valla Yachts over liability for sub-contractor invoices and disputed variation orders during the building process.
The total sum sought by Nobiskrug amounts to €15,298,297.05 plus interest and costs.