A Latino, ex-Obama Labor secretary elected chairman of the Democrats
Sunday, February 26th 2017 - 14:18 UTC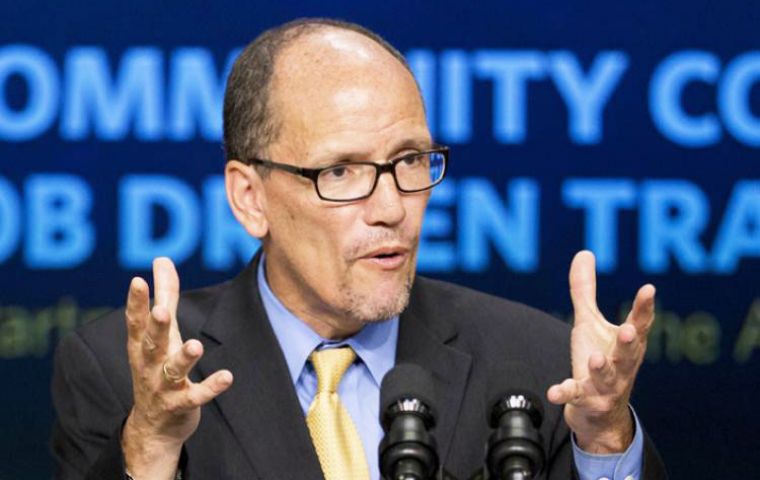 Former Labor Secretary Tom Perez on Saturday was elected chairman of the United States Democratic National Committee, defeating top-rival Minnesota Rep. Keith Ellison, in their respective bids to chart the direction of the national party. Perez was elected after two rounds of balloting in Atlanta at the party's annual winter meeting. He received 235 votes, crossing the threshold of 218 ballots.
"We are at a turning point for our party and for all Americans," Perez said after his victory. "By getting back to basics, we can turn the Democratic Party around, take the fight to (President) Donald Trump, and win elections from school board to the Senate."
Perez graduated from Harvard Law School in 1987 and worked as a civil rights attorney at the Justice Department. He later served as deputy assistant attorney general for civil rights under Attorney General Janet Reno. Perez in 2002 joined the Montgomery County Council in Maryland as the panel's first elected Latino and served through 2006.
After his win Saturday, Perez picked Ellison as his deputy chairman. "We don't have the luxury to walk out of this room divided," Ellison said. "It is my honor to serve this party with Tom Perez."
Perez, now the first Latino to lead the DNC, and Ellison were among a field of seven election-day candidates that also included Pete Buttigieg, the mayor of South Bend, Indiana, whose late surge ultimately fell short. The election involved 435 eligible members of the national party committee.
The race between Ellison and Perez was portrayed as an ideological proxy battle between Democratic supporters for Vermont Sen. Bernie Sanders and Hillary Clinton, who defeated Sanders in the party's 2016 presidential primary. Ellison backed Sanders, while Perez backed Clinton. Ellison, who in 2006 became the first Muslim elected to Congress, was considered a champion of the party's most progressive wing.
Perez, a Labor secretary under President Obama, is considered more of an establishment candidate, though each ran on a progressive agenda and vowed to rebuild the party at the state and local levels, in large part by appealing to Democratic voters' opposition to Trump, a Republican.
Obama released a statement that in part said: "Congratulations to my friend Tom Perez on his election to lead the Democratic Party, and on his choice of Keith Ellison. ...What unites our party is a belief in opportunity -- the idea that however you started out, whatever you look like, or whomever you love, America is the place where you can make it if you try."
Trump commented Saturday on the Perez win, in an apparent attempt to invade the news cycle. "Congratulations to Thomas Perez, who has just been named Chairman of the DNC," Trump tweeted. "I could not be happier for him, or for the Republican Party!"