EU pledges to keep Ireland and Ulster border "as open as possible"
Sunday, February 26th 2017 - 14:25 UTC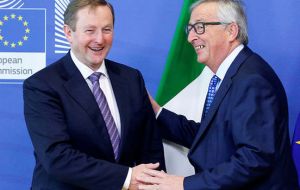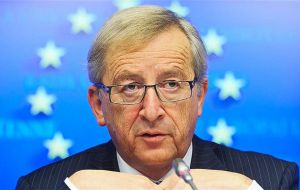 The EU's negotiators will work to keep the border between Ireland and Northern Ireland "as open as possible" after Brexit, the President of the bloc, Jean-Claude Juncker, said after meeting Irish Prime Minister Enda Kenny.
Mr Kenny met European Commission President Juncker and EU Brexit negotiator Michel Barnier in Brussels, where he stressed Dublin's concerns about the border, which will become the EU's land frontier with Britain.
Ireland's concerns centre on the need to avoid risking a return to sectarian conflict in Northern Ireland.
"We don't want to have hard borders between Northern Ireland and the Republic," Mr Juncker told reporters.
He said Mr Barnier would try to avoid damaging the 1998 Good Friday peace agreement, adding: "We want land borders being as open as possible."
Mr Kenny noted that until British Prime Minister Theresa May launches the Brexit process by detailing Britain's demands, something she aims to do next month, Ireland and its EU allies could not know where border negotiations would start.
He said he believed the solution would be "political" not "technological".
Mr Kenny reiterated Dublin's call for the Brexit treaty between the EU and Britain to spell out that Northern Ireland would join the European Union again immediately if it chooses in a referendum to unite with Ireland under the provisions of the 1998 peace agreement.
That, he said, would follow the example of the EU's absorption of East Germany on reunification in 1990.
"The language of what's contained in the Good Friday Agreement will also be contained in the negotiation outcome," Mr Kenny said.
"We want that language inserted into the negotiated treaty or negotiated outcome, whenever that might occur."