Falklands' delegation visits Vigo with an idea of building a fisheries port in the Islands
Monday, February 27th 2017 - 10:02 UTC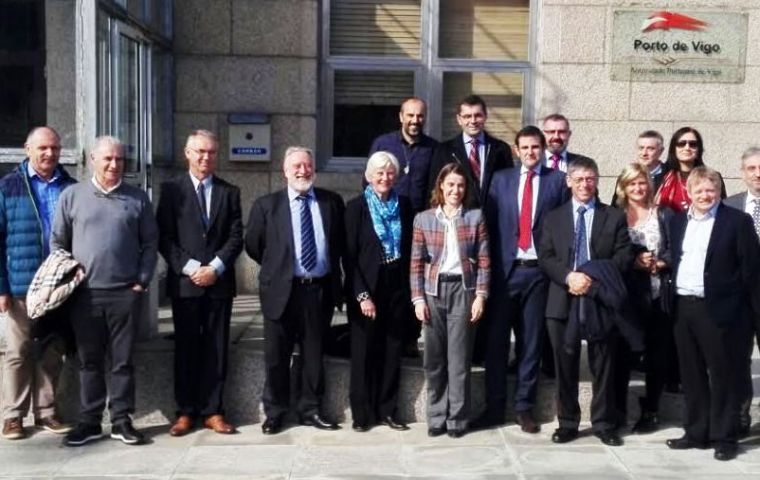 Falkland Islands representatives met with port of Vigo authorities to assess the infrastructure, services, development plans and competitiveness of the Galician fisheries terminal, one of the busiest and most efficient in the European Union, reports the Galicia media.
The Falklands delegation which included lawmaker MLA Phyllis Rendell and John Barton, Director of the Islands Natural Resources department, together with other delegates linked to the Islands' fisheries, were in Galicia for the launching of the longliner CFL Hunter, built by the Nodosa Group, the first fishing vessel totally financed by the Falklands.

Taking advantage of the trip to Galicia, Vigo port authority president Enrique César López Veiga received the delegation, who informed the visitors of port facilities, operations, logistics and besides answered all questions.
According to the Galician media the Falklands' visitors interest is focused on building port facilities in the Islands to service an estimated forty fishing vessels, and the Vigo outlay and logistics are considered a possible model to follow.
Vigo port authorities also revealed that trade relations between the Galician port and the Falklands increased 3.94% in tons during 2016. In effect a total of 29.307 tons, mostly frozen produce was landed in Vigo from the Falklands.
ARVI, the Vigo cooperative of fishing vessels which has very close links with the Falklands, officially declared its "full support" for the project.