Brazil manufacturers set up "maquila" assembly plants in neighboring Paraguay
Tuesday, February 28th 2017 - 18:18 UTC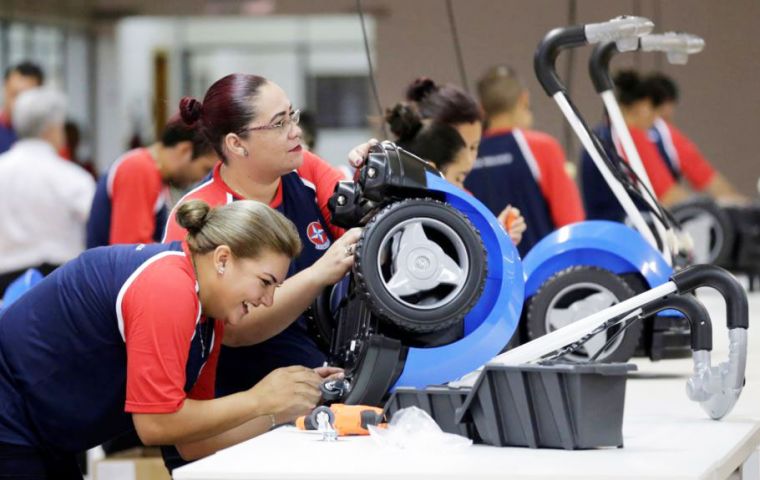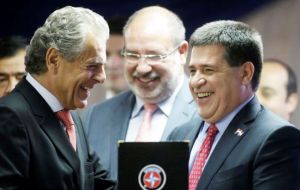 When toymaker Estrela decided to move manufacturing capacity back to Latin America from China, it sank US$ 2 million into a new factory not in its native Brazil - the region's largest economy - but in its tiny southern neighbor Paraguay. The plant, which opened this month in the border town of Hernandarias, stands near a 4,500-hectare industrial park filled with Brazilian companies making everything from auto parts to clothing.
The dark-blue electric scooters assembled by 20 workers at the Estrela factory, known as a "maquila", will be shipped across the border to Paraguay's giant northern neighbor under a Paraguayan system that allows hefty tax breaks for exporters.
For Carlos Tilkian, chief executive of Manufatura de Brinquedos Estrela SA, it was an easy decision to open the assembly plant in the landlocked nation of just 6.8 million people sandwiched between Brazil and Argentina.
Paraguay has important competitive advantages: cheap energy, labor flexibility and low social charges on wages, he said in an interview before the factory's inauguration. "In Brazil, this would be much more expensive."
Brazilian companies increasingly have been flocking to Paraguay since the election of former-businessman turned President Horacio Cartes in 2013, when he steered his nation to the right after the impeachment of leftist Fernando Lugo.
In a bid to create jobs, Cartes built on a 1997 reform that allowed foreign exporters to pay taxes in the low single figures and excluded them from customs tariffs with additional pro-business measures. Though more than 90% of its manufactured goods go to Brazil, Paraguay's Mercosur trade bloc membership also gives exporters easy access to Argentina and Uruguay.
Since Cartes's election, the number of foreign manufacturers in Paraguay has nearly tripled, according to government figures, also spurred by Brazil's worst recession on record. The economic downturn has forced manufacturers to cut costs to remain afloat amid onerous taxes and bureaucracy.
Of the 126 foreign manufacturers now in Paraguay, four-fifths are Brazilian. The move by Brazilian companies southward is sparking outrage among Brazilian unions.
Anthony Lisboa, secretary for international relations at Brazil's umbrella union federation, denounced the "maquila" system, saying it relied on "slave labor." He said he was trying to galvanize opposition in Paraguay — which lacks Brazil's tradition of organized labor.
"The U.S. auto industry has the same issue with Mexico: they are simply moving production to a country where laws permit worse working conditions," Lisboa said.
Brazilian businesses and economists say jobs created in Paraguay are replacing jobs in China, not Brazil, and that Brazil benefits from a more prosperous neighbor.
"As China gets more expensive, it becomes viable for some industries to produce closer to home and Paraguay is close to home," said Thomaz Zanotto, foreign trade director for Sao Paulo's powerful business chamber FIESP. "This is not going to rob Brazilian industry — Paraguay is not big enough for that — but ... it shows we could be more cost competitive in Brazil if we had better economic policies."