Falklands: Argentine human rights/political delegation to the Islands with a message of peace and dialogue
Wednesday, March 1st 2017 - 13:26 UTC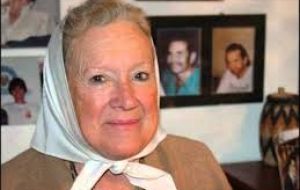 At least fourteen human rights, social, religious and political leaders from Argentina are planning to travel to the Falkland Islands in mid March hoping to meet Islanders with a message of peace and dialogue. The delegation includes Adolfo Pérez Esquivel, 1980 Peace Nobel Prize, Nora Cortiñas, founder of one of the several branches in which the Mothers of Plaza de Mayo are split, and members of the Memory Commission, according to reports from Buenos Aires.
Cortinas, 87, will become the first representative from Mothers of Plaza de Mayo to visit the Falklands and was quoted saying that the trip "is something strange, a shudder down my back since I never imagined I would be stepping on Argentine territory, still distant, so that we can help to make it truly ours"
The leader of Mothers of Plaza de Mayo said the trip will take place between March 11/18, and hopefully and with expectation, "we can meet the Islanders and establish dialogue"
"It's a milestone in recent history of our country: for the first time human rights groups referents will be stepping Malvinas soil", said representatives from the Memory Commission, which includes elected officials, trade union members, human rights experts a Catholic priest and a member of the Jewish community..
Another member of the delegation according to the official Argentine news agency Telam, is Ernesto Alonso, a Malvinas veteran who also underlined that "we are going to try to organize meetings and establish some sort of dialogue with the Islanders, we are committed to a message of peace and dialogue"
During the weeklong stay, the delegation members "will develop activities signaled by the sovereignty claim and a peaceful resolution of the Malvinas conflict". And they will renew "the call for truth and justice for the Argentine soldiers fallen and tortured during the 1982 war"
This refers to the several claims before Argentine courts referred to human rights violations of Argentine rank soldiers by their officers during the 1982 conflict. Apparently the cases have not advanced in the courts and the Malvinas veterans organization have presented their case before the Inter American Commission on Human Rights, which depends from the Organization of American States, OAS.
"The visit has the purpose of exposing, once again, the human rights violations suffered by Argentine soldiers from their Officers. These crimes have not yet found echo in the Argentine courts despite all the impressive and fact evidence which enable to prosecute and condemn these crimes against humanity", affirmed Alonso.
The delegation is also scheduled to visit the Darwin cemetery where Argentine combatants are buried including 123, unknown, and which a Red Cross team will attempt to identify with ADN samples, sometime between next June and September, following an understanding between Argentina, UK and the Falkland Islands elected government.