Falklands' Loligo season opens; Vigo market squid prices are "strong"
Thursday, March 2nd 2017 - 07:59 UTC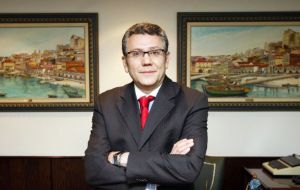 The Loligo squid season took off this weekend in the Falkland Islands and the Galician partners of local companies are hopeful that they can repeat catches of the last season when some 46.000 tons were landed. "The experimental sampling previous to the official launching points to stability", according to Javier Touza president of ARVI, the Vigo cooperative of vessel owners.
"What matters is how the season takes off", points out Touza who recalls "the very poor 2015 season" with catches of 30.000 tons of Loligo, but fortunately "we managed to recover normality last year". However the Galician entrepreneur admitted that 2016 had an atypical start, because of El Niño, and the Illex squid season was "disastrous", down 60%.
But on the bright side is the fact that scarce supply has meant strong prices. "they are at a good level and we suppose they will maintain that stability", but at least must evolve to have a good reference as to the real start of the season.
Touza said that some sixteen vessels are currently operating in the FICZ for Loligo, and was made it a point to underline the close links between Galicia and its fishing expertise and the Falkland Islands. Precisely last Saturday the Falklands commemorated the 30th anniversary of the FICZ, Falkland Islands Conservation Zone, which completely changed the prospects of the Islands with the development of the fishing industry.
In effect in the recent launching in Galicia shipyard Nodos of the longliner CFL Hunter, totally financed by the Falklands, MLA Phyllis Rendell underlined the "long and noble tradition of fishing" of Galicia.
"Their people, their fishermen have taken their craft to all corners of the world and have fostered the development of fisheries elsewhere, and one of these corners was the Falkland Islands, 30 years ago when in 1987, the fishing zone was established in Falklands' waters and in doing so transformed the economy and prospects of this small Island nation".
"Fishermen from all over the world came to the Falklands looking for licenses in squid and other finfish, but it was the Spanish who invested in local partners and thus have contributed so significantly to the growth of the industry in the Islands".