History of the Falklands Interim Conservation Zone
Friday, March 3rd 2017 - 10:07 UTC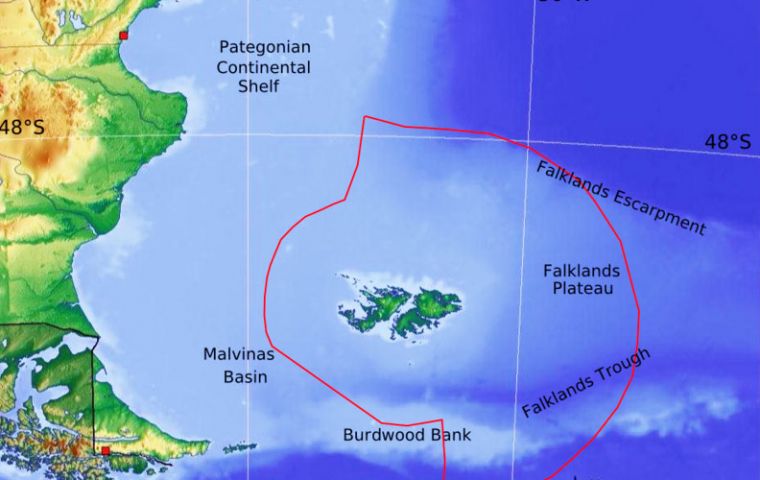 On October 29 1986, a proclamation declaring the Interim Falklands Conservation Zone was signed by Governor Gordon Jewkes. The zone had a 160-nauticalmile (300 km; 180 mi) radius. On February 1, 1987 the Falkland Islands Fisheries (Conservation and Management) Ordinance came in to effect.
The Dornier aircraft and patrol vessels Falklands Desire and Falklands Right had arrived in January to take up their roles in the protection of the fishery.
There were 400 applications for licences and 215 vessels were licensed to fish under the 243 licences for the February to June season and a further 85 for the July December season.
Fees varied between £26,000 to £86,000 depending on tonnage for a squid jigger or the number of lines. The revenue in licences collected was about £13.5 million with the protection of the fishery costing about £4 million. A profit equating to almost the entire revenue of previous years. (Today an Illex licence costs around £100,000).
In addition to the Government collecting licence and transhipping dues the Falkland Islands Development Corporation also initiated a number of joint ventures with various fishing companies, owning a hundred of the licensed ships.
The Falklands Outer Conservation Zone was established in 1990. It lay between the perimeter of the FICZ and the Falklands 200-nautical- mile economic zone boundary.
A new Fisheries Ordinance commenced in 2005 with the fishery entering the ITQ system during 2006 - 2008.
The ITQ system gave Falklands fishing companies the leading role in the fishery; ITQ can only be held by companies whose shareholders have FI status and who are ordinarily resident.
In summary the introduction of a fisheries conservation zone and fisheries management regime in 1986 transformed the economy of the Islands. Government revenue increased by 500%, securing self sufficiency in all areas except defense and external affairs.
Annual revenue from fishing license fees averaged £20 million for the first 20 years although latterly this has reduced to around £13 Million. The fishery accounts for some 40% of GDP.
Most of the fish that are harvested in the Falkland Islands waters are either squid or finfish. Other types of fish form an insignificant part of the Falkland Islands' catch.
The total catch of Illex squid from 1987 to 2016 was 3,716,000 tons. Total Loligo for the same years was 1,642,000 tons. (PN).-