New Brazilian foreign minister no fan of Trump, but sponsors free trade, Mercosur and the Pacific Alliance
Friday, March 3rd 2017 - 11:48 UTC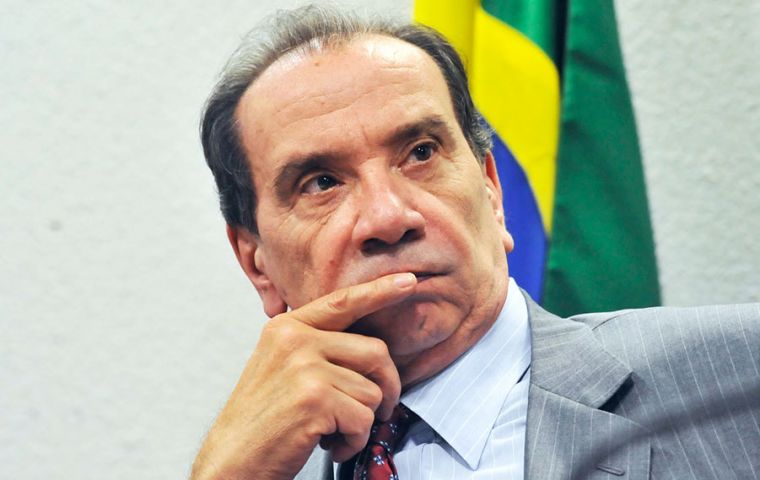 Brazil's president has picked as his new foreign minister a man who has sharply criticized U.S. President Donald Trump. President Michel Temer named Sen. Aloysio Nunes to the post Thursday to replace Jose Serra. Serra resigned last week for medical reasons. The appointment doesn't require congressional approval. Both Nunes and Serra belong to the center PSDB party, senior member of the ruling coalition.
After Trump's victory in November, Nunes went on Twitter to call the real estate mogul "the worst" of the Republican Party, "uncontrollable" and "exaggerated."
A leftist guerrilla when a student who fought against Brazil's military dictatorship in the late 1960s, (he was forced into exile in France from 1968 to 1979), Nunes is today a strong advocate of free trade and private initiative. He promoted closer ties to the United States as chairman of the Senate foreign relations committee, but his initial response to the election of Trump last year was very negative.
Nunes, 71, is expected to follow Serra's lead in moving away from a foreign policy of alignment with left-wing governments in Latin America followed by the Workers Party that was ousted from power with the impeachment of Dilma Rousseff last year.
"At this moment, in which Brazil is beginning to emerge from a deep crisis, foreign policy can make a big contribution in the economy, in foreign trade, in attracting investments to create more jobs," he said in a video on his Facebook page.
Nunes said he will work to revive the five-nation Mercosur trade bloc of South America by drawing it closer to the Pacific Alliance countries and concluding a trade deal with the European Union.
President Temer's spokesman called Nunes "a public figure with broad political experience... with a long history of engagement in the causes of Brazilian diplomacy and Brazil's international agenda."
The presidency highlighted Nunes' chairmanship of the Senate foreign relations committee. He was also justice minister in 2001-2002.
Nunes is a senior figure in thet PSDB party, a crucial ally for Temer's center-right PMDB at a time when the president is trying to maintain congressional support for austerity reforms and to stem the damage from a sprawling corruption scandal that has already brought down several ministers.
The new foreign minister is not the only former urban guerrilla to have survived to reach high level politics in modern Brazil. Temer's predecessor, Dilma Rousseff was imprisoned and tortured under the dictatorship and rose to become Brazil's first female president until her impeachment last year.
Nunes was on the losing ticket with the PSDB's Aecio Neves in the 2014 presidential elections against Dilma Rousseff and her then vice president Michel Temer.