Identification of soldiers remains buried in Falklands has started, says Argentina
Saturday, March 4th 2017 - 11:16 UTC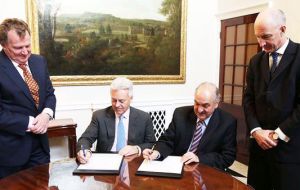 The Argentine Justice ministry's Human Rights and Cultural Pluralism Desk, announced on Friday that the identification process of the remains of the "Argentine heroes" buried in the Falkland Islands Darwin cemetery has started, and is based on the "accord signed between Argentina and the UK".
The ministry's release states that the identification of the remains involves the Red Cross International Committee, is based on the agreement signed by Argentina and the UK, and is estimated the task will be done between this month (March) and next December.
"The proposal intends to settle a historic debt with the relatives of the fallen heroes who rest in the Darwin cemetery under the caption, 'Argentine soldier only known by God'.
The mission, strictly humanitarian and confidential, does in no way affect the national claim of Argentine sovereignty rights over the Malvinas Islands", adds the release.
It then points out that "the procedure is optional and will be addressed case by case, so that relatives interested in it, must consent and contribute with their DNA samples".
"The whole task will be done with the utmost respect and the necessary cares from a specialized group, and the results of each identification, will only be communicated to the families when the Red Cross forwards them in a consolidated full report".
Besides the "remains will not be taken to the continent following the identification process, because it is not part of the initiative"
The Justice ministry release emphasizes that the Argentine government "is committed to respect the will of the families facing such a delicate matter", if any of them wishes to remove the remains in the future.
The data collected from the families and that referred to the Argentine fallen combatants, as well as the result of the DNA samples, "will not be publicly released".
Finally the release gives two phone-number options to which interested families in more information can call since the government continues to work so that the "State reaches all Argentines".