New Brazilian minister wants closer Mercosur-Pacific Alliance relations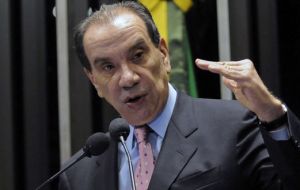 Giving new life to Mercosur and closer links with the Pacific Alliance are the main challenges of his office said Aloysio Nunes, Brazil's new foreign minister. In as brief statement in Facebook the ex senator and chair of the foreign affair committee also insists that Mercosur must open to the world and reach more agreements with other countries and trade spaces.
"We have very important challenges ahead such as giving new life to Mercosur and bringing Mercosur closer to the Pacific Alliance" wrote Nunes in reference to the Pacific grouping made up of Chile, Peru, Colombia and Mexico, and which despite its relatively recent conformation has advanced far more than Mercosur in promoting trade, open economies and attracting foreign investment.
As chair of the foreign affairs committee in the Senate, Nunes has been more insistent in advancing Mercosur and reaching agreements with other countries, which marks a certain distance from his predecessor, Jose Serra, who overall was pessimistic about Mercosur and its political alignment, preferring to act in tandem with Argentina.
"Our understanding now is between Mercosur and the European Union, and we have a fresh opportunity ahead, which represents a more competitive insertion for Brazil in the world" said Nunes who is determined to reach an agreement with the EU.
The new minister argues that a good foreign policy can create new opportunities for Brazil at a time the country is struggling out of a three-year recession, and in desperate need of foreign investments.
The new foreign minister is a strong standing critic of the so called "Bolivarian" governments, and as his predecessor, Serra is expected to continue with the policy of cutting links with those regimes that prospered during the thirteen years in which Brazil was ruled by the Workers Party under ex presidents Lula da Silva and impeached Dilma Rousseff. Under the Workers Party administrations the Pacific Alliance was seen as a competitor for highly protectionist Mercosur.
Nunes as a law student in the early sixties was a member of the Communist party and later joined the guerrilla movement, until he was caught and expelled. Currently as well as his party PDS, are close allies of conservative president Michel Temer.