The Economist Argentina summit: Reemerging on the global stage
Monday, March 6th 2017 - 17:41 UTC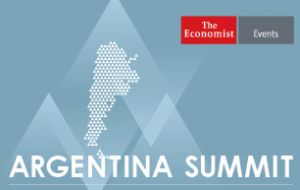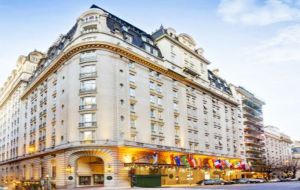 The Economist's Argentina Summit taking place in Buenos Aires on Wednesday, 8th March, will bring together more than 200 government and business leaders to evaluate Argentina's progress over the last year and to discuss the country's social, political and economic future in the year ahead.
The presentation brochure reads that In November 2015, Mauricio Macri was elected president of Argentina, ending more than a decade of Kirchnerism. Since his inauguration, the president has enacted a program of economic policy adjustments: foreign-exchange controls have been removed, agricultural export duties have been reduced and costly energy and transport subsidies largely dismantled. In addition, and perhaps most importantly, Argentina has managed to negotiate and execute a successful agreement with holdout creditors; exiting default and sending a signal that Argentina is back on the global stage and open for business. Still, significant challenges to rebalancing its economy remain. Inflation remains excessively high, the country's fiscal deficit is large and its political landscape is fragmented. Poverty, while difficult to assess due to the lack of reliable statistics, is believed to affect very large segments of the population.
Against this backdrop and more than a year on from Macri's election, The Economist's Argentina Summit 2017 will gather government and business leaders from Argentina and abroad to evaluate the country's progress. Chaired by The Economist's editors, the Summit will tackle key questions including: What is the outlook for growth? Can the government rebuild the country's institutions? Can Argentina learn from countries that have faced similar development challenges? What is next for multinationals doing business in the country? How can Argentina encourage innovation and entrepreneurship? What can the government do to attract more private-sector investment? How can it restore Argentina's image abroad?
In the spirit of debate that defines The Economist, the summit seeks to encourage an intelligent, lively discussion of Argentina's social, political and economic future.
Speakers: Sebastian Piñera, former president, Chile, La economía argentina: a view from the top
Susana Malcorra, Minister of Foreign Affairs and Worship of Argentina, Charla: the road ahead for Argentina
Nicolas Dujovne, Minister of the Treasury, Abriendo camino: becoming a true global player
Marta Cruz, Co-founder, NXTP Labs, Apostando por el futuro: from startups to scaleups.
Mark Post, Professor, head of cultured beef program, Maastricht University, Sanando la economía: Argentina's potential to heal.
Daniel Burman, Director, producer, screenwriter, La creatividad argentina: using bold ideas to drive smart growth.
Some of the questions to be addressed: What is the outlook for growth and the peso?, Will the government succeed in bringing in fresh thinking to political institutions?, What can we gather about Argentina's future from countries that have faced similar development challenges?, What's next for multinationals doing business in the country?, How can Argentina leverage talent to catalyze innovation and entrepreneurship that drives economic growth?, What are the structural challenges that still need to be resolved to bring greater investment from a disgruntled private sector?