Argentina: "The honeymoon with the Macri administration is over" warns analyst Fraga
Wednesday, March 8th 2017 - 09:42 UTC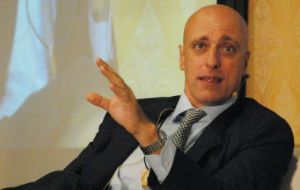 "The honey moon is over" and the government of President Mauricio Macri must rapidly reconsider its strategy since public opinion is no longer responsive to the expectations of the first fourteen months, according to Argentine political analyst Rosendo Fraga. His analysis was also supported by another political commentator Carlos Pagni, who said all opinion polls indicate a sliding drop in expectations.
"In its first year government counted with a more patient, less demanding and more considerate attitude from the people, but this rarely lasts more than twelve months: besides the economy did not respond and the 'cursed legacy' argument rapidly erodes, so the honey moon between government and the people is over", explained Fraga in an interview with a Buenos Aires radio.
It is time for the government and Macri's party which continue glued to their strategy that what really matters are the social networks and not what is happening in the streets, "I'm telling them that ill feeling in the streets is growing".
In 2016 the economy didn't manage to take off, "according to Indec stats office GDP contracted 2.4% and Buenos Aires City reports a drop in consumption. The government needs to redesign its strategy", insisted Fraga.
As to the coming midterm elections, next October, the popular governor of Buenos Aires province, María Eugenia Vidal admitted that contrary to a few weeks ago there are now doubts about what may happen. "If we lose the election is not the end of the world" said the leader of the decisive electoral circuit of Argentina, which means "the election is not won (as we expected), it's an open issue".
In effect, "the current situation is perceived by a significant percentage of the population that the ruling coalition of President Macri is a right wing government, insensible, commanded by rich people for the benefit of the rich" because of recent political blunders such as condoning debts of a failed privatization investment in the nineties of the Macri family.
Although technically legal, and president Macri denies any personal involvement in family business, public opinion perception has forced him to annul the whole operation and decrees supporting it. Likewise with the open skies policy, in which a small family airline was sold to a major carrier Avianca. This operation has also been suspended.
Fraga also points out that the government's statement that "recession is over", when stats show it continues to slide, has exhausted patience particularly following five consecutive quarters of economic contraction and loss of jobs.
Analyst Pagni has also warned that leaving aside polls indicating positive or negative support for the different October hopefuls or candidates, what really matters are expectations, and these show that a growing majority believes things are going to be worse during this year.
"Macri needs to turn around this clear tendency, and I believe government officials are waking up to the situation", said Pagni, who insists more political criteria is needed.
Pagni showed different opinion polls and all of them coincide that the expectations curve is sliding down, while that of pessimism about the future is climbing. Compared to a peak of 69% at the beginning of 2016, expectations are falling consistently and have reached 47% this month, while those climbing are now at 33% from 17% a year ago.
"There is still a gap but tendencies are converging and the government must ensure they reject each other, they don't cross each other, and it won't be easy. I understand that government officials are perceiving this and in private admit there is a crisis", explained Pagni.