Falklands' population better off, healthier and happier than when the 2012 Census
Wednesday, March 8th 2017 - 10:39 UTC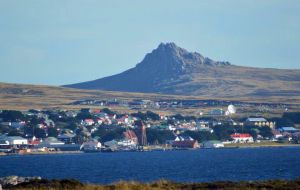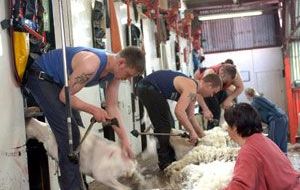 The Falklands population continues to grow, is generally better off, healthier and happy with the roof over their heads, than four years ago when the last Census was conducted. Maeve Daly, Statistics and Performance Officer of FIG's Policy Unit presented the 'headlines' of the latest Census, at a Public Meeting last week.
The census data is still being analyzed, and a full report will be published by the Policy Unit by the end of March. The population of the Falkland Islands (usually resident individuals) was calculated to be 3,398, which is an increase of 16% on 2012.
3,200 of those individuals were present in the Islands on Census night (October 9, 2016), and it is the data these individuals provided on their Census forms which will be analyzed by the FIG Policy Unit, to provide a basis for future decision-making.
Thirty more people now live in the Camp bringing the population up to 381. However, it is the populations of West Falkland and other Islands which are increasing - East Falkland camp population declined. In 1980, the Camp population was 763, and has been slowly declining ever since, until this year.
Stanley has a population of 2,460, compared to 2,120 in 2012. In 1980, Stanley had a population of 1,050.
National Identity
Of those who completed a Census form, 62% classed themselves as Falkland Islander. The next highest national identity was British at 23%. There were also combinations of several nationalities.
At the public meeting on Monday, a resident pointed out that he was born British, but was now a Falkland Islander Status holder, so had been confused what answer to put for this question.
Ms Daly, explained that there really was no right or wrong answer, but it depended on how an individual perceived themselves.
St Helenian identity, on its own, was claimed by 91 people or 4% of the residents and Chilean was claimed by 117 or 5% of the populace.
In addition to the numerically strong national identities, there were also 44 other nationalities, representing 286 people. Of these, Zimbabwean was the largest, with 74, then Filipino with 51, and then Australian, New Zealander, North American, S African, French, Italian, Argentine, and Irish with 5.
The average age of the population is 38.5. Young people, under the age of 15 comprise 19% of the population, and those over 64 years of age 12%.. In terms of immigration status, 75% of the Stanley population are Status or PRP holders, (85% in Camp). Numerically, there are 531 work permit holders, compared to 341 in 2012.
Employment and Income
247 more people are in part or full-time employment, an increase of 16%. Unemployment remains extremely low with only 21 individuals out of work (1.1%). 45% of all employed Camp residents are self-employed, compared to 11% in Stanley.
The main employment sectors, with numbers employed, are the Public Service (525), Agriculture (210), Retail, and vehicle repair (200), Construction (175), Business Services (95), Tourism (89) and Hospitality (87). The top seven sectors employ 75% of the workforce. Roughly, a fifth of those in employment have two or more jobs.
For individuals in employment, the mean (average) salary in Stanley is £27,562, and £21,336 in Camp. This is an increase since 2012 of over £4,000 for Stanley workers, but a slight decrease for those in Camp.
However, the percentage of workers earning less than £15,000 is 24 whereas, four years ago, it was 37. Similarly, considering the whole population, including those not in employment, those in the lowest income category of less than £15,000 is 37%, compared to 47% in 2012. So, there are fewer people at the lower-paid end of the market.
Households
Since 1991, there has been an upward trend in the number of households, rising from 801 in 1991 to 1,361 in 2016. Overall, 58% own their homes, and 98% of people rated their accommodation as 'good' or 'fairly good', with only 2% (22 people) saying it wasn't suitable for their needs.
Mortgage repayments in Stanley average £468 per month, and in Camp, £539. Monthly rental payments are £533 in Stanley and £358 in Camp. Rental payments have increased by 29% in Stanley since 2012, and by 62% in Camp.
Mortgage repayments have increased by 12%, in both Stanley and Camp.
Health
For the first time in the Census, individuals were asked about their health, and 88% of people rated their health as "good" or "very good".
417 people reported that they smoked, compared with 533 in 2012. Smoking is most prevalent (32%) in the 25-34 age group, but decreases significantly in older groups. The largest decrease (15%) in smokers from 2012 was in the 15-24 age group. 65% of individuals (aged 16 and over) stated they drank alcohol, a slight decrease of 7 percentage points from 2012.
15% of those that drink alcohol consume more than the recommended limit of 14 units per week. 14 units is the equivalent of 10 cans of beer or 6 glasses of wine.
Most people were happy with their health (88%) and accommodation (98%)
The Census counts all people on the Islands on Census night, including temporary visitors and civilian personnel based at MPC. A temporary visitor is anyone who intends to stay in the Falkland Islands for less than 3 months and is usually resident elsewhere.
This presentation of results focuses on usual residents on the Islands who were present on the Islands on Census night, unless stated otherwise. (Penguin News)