UK Ambassador meets with Malvinas Families commission
Thursday, March 9th 2017 - 20:11 UTC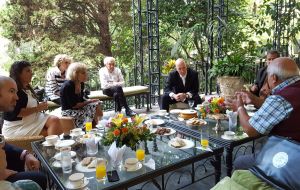 British ambassador in Buenos Aires, Mark Kent this week held a meeting with relatives of Argentine combatants who lost their lives during the Falklands conflict in 1982, according to the embassy twitter. The meeting was described as "historic", and Ambassador Kent said that the "warm and most respectful dialogue", addressed humanitarian issues and "how to honor the memory and dignity of the fallen in combat".
The news of the meeting with members of the Malvinas Families Commission was released in the embassy's Twitter account with pictures of ambassador Kent with his guests.
In a recent interview with the Mendoza media, a province dear to ambassador Kent since he spent time at a local university learning Spanish, ambassador Kent said that "we don't agree on the Islands sovereignty issue, but we working positively in the overall UK relation with Argentina".
Evidence of this positive approach is the recent visit of a multiparty group of Argentine lawmakers to the UK, and an Argentina Britain Chamber of Commerce delegation business tour of the UK beginning March 24.