Falklands' Fortuna donates £30,000 to FIOGA and celebrates 30 years of business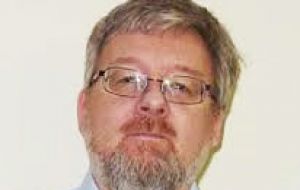 The Overseas Games Association received a generous £30,000 from fishing company Fortuna Ltd to be used to purchase sports kit for the competitors at this year's Island Games in Gotland. Presenting the cheque Fiona Wallace said that as the wholly-Falkland Islander owned company was celebrating its 30th anniversary, it was felt appropriate to support a nationally significant event.
Fortuna Ltd had been part of the fishing industry since its inception and took great pride in being part of such a significant development in the Falklands, said Ms Wallace.
The company had made significant investments over the years to ensure that the Falklands was able to extract maximum benefit from the industry, she said.
"This has involved projects such as the purchasing of vessels (flagged to the Falklands), the development of the fish processing plant and, most recently, the restoration of the Camber so that our vessels can lay-up and be worked on here," said Ms Wallace, adding that causes that local people would benefit from had also been made a priority with donations to charities and various organisations over the years.
Later that evening the company and invited guests attended a reception at Malvina House Hotel celebrating the 30th anniversary of the formation of the company at which Fortuna Managing Director Stuart Wallace described the early years as an, "uphill struggle."
He explained that the fishery had been, "set up in what can fairly be described as an old style colonial system, with no account taken of any aspiration that we might have to participate, let along own. But there were people around who gave their support and at a key point Tony Blake and Charles Keenleyside, then members of Executive Council fought for Falkland Islander's rights and they carried the day."
He also referred to the ITQ system as pivotal in giving security to the industry and thanked MLAs who supported its introduction, and David Lang, Michael Harte and John Barton, "who did so much of the heavy lifting."
He said Argentina could see how vital it was to the Islands: "... they described it as Falkland Islanders previously having just tents on the hill, but were now creating castles, and bitterly opposed it. A further clear indication of the value it created in our economy."
Mr. Wallace also paid tribute to Fortuna's international partners, some of whom were represented at the reception including Captain TK Lei from Taiwan and partners from Spain. He also thanked their ships' agents Sulivan Shipping and Fleetwing , the many helpful government departments, their ships' crews, and also his family. (Penguin News)