Argentina protests with Brasilia over Falklands RAF flights calling in Brazil
Tuesday, March 14th 2017 - 06:49 UTC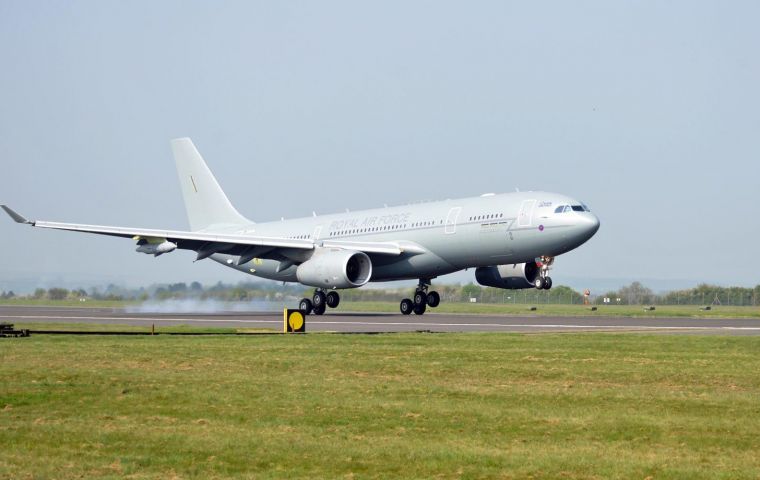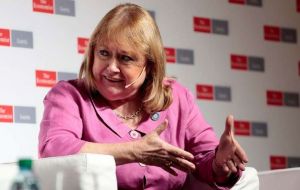 The Argentine government reiterated on Monday its disappointment with the UK military flights linking with the Falkland Islands and calling in Brazil. "We made a complaint to Brazil regarding flights and we have also instructed our embassy in the UK", said Malcorra speaking to the media.
The request to Brazil was made two weeks ago following on information provided to the Malvinas Desk of the foreign ministry by Argentina's Air Control Traffic which depends from the Defense ministry.
Allegedly according to the report during 2016 at least six Royal Air Force flights called at Brazilian airports en route to MPA in the Falklands.
"This is not new since in 2015 another twelve military flights calling at Brazilian airports have been reported", added Malcorra.
On presenting the complaints Argentina recalled that Brazil was committed not to accept in its airports or sea terminals, military aircraft or vessels linked to or stationed in the Falklands.
The first reply from the Brazilian embassy in Buenos Aires was that "it must of have been humanitarian or emergency situations" that forced those landings.
Asked if Argentina was satisfied with the reply, Malcorra said "satisfaction would be if those flights didn't occur". She added that as long as these flights continue, "we are going to express our disappointment and demand that they cease. Anything less than that certainly is not satisfactory".
Asked about the current visit of human rights activists to the Falklands, Malcorra said that this was "in line with the Macri administration policy, which is that you can't deny the existence of the Islands and of the inhabitants of the Islands".
"Some form of recognition and dialogue with the inhabitants of the Islands, who have their needs and expectations, is positive" added Malcorra arguing that Argentina "must take into account the interests of the Islanders"
Malcorra also mentioned that the mission of identifying Argentine combatants remains buried in Darwin is keeping to timetable, following the agreement between Argentina, UK and the International Red Cross.
"We are waiting for the relatives to provide us with basic information for the DNA sampling, but this is in the timeframe expected", said Malcorra who also underlined that the "Malvinas residents collaborated with the Red Cross representatives who visited the Islands last week".