Chaotic concert in Argentina leaves two dead, a dozen injured and some teen agers still missing
Tuesday, March 14th 2017 - 12:00 UTC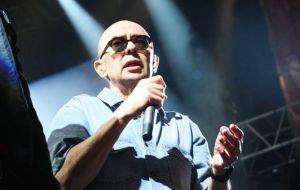 Two people were killed and over a dozen were injured when spectators rushed the stage at a chaotic outdoor rock concert in Argentina. The deadly crush of fans was blamed on lack of crowd control at Saturday's event featuring popular performer Indio Solari in the town of Olavarria.
Solari halted his performance several times, calling from the stage for security to help people who were stuck in the stampede and appeared to be fainting.
Some 350,000 fans showed up for the concert, Mayor Ezequiel Galli told a news conference. He said the event had been organized to handle less than half that number, and that it would be up to the justice system to decide who is to blame for the disaster.
"What happened was total chaos," he said. "It just got away from us, out of control".
"No one imagined that this many people would show up," the mayor added, saying that by mid-afternoon some 100,000 vehicles, or one for every city resident, had arrived for the show.
President Mauricio Macri said that this type of accidents happen because some officials and people do not respect rules.
Witnesses said the lack of control was such that organizers neglected to collect tickets at the large field where the concert was held, letting anyone through the gates. The open space concert could only hold half the spectators that turned up. An idea of the lack of organization was one chemical toilet for every 500 people.
Likewise the concert was taken to Olavarría, 350 kilometers from Buenos Aires City, because of lax regulations and poor security and fiscal controls. It is estimated that the organizers, rock singer Indio Solari's company, collected somewhere between 10 and 12 million dollars.
Such was the chaos that many contracted buses never made it to the concert, and some left leaving people stranded. A special phone line was created to try and locate those still missing or which still have not returned to their homes. In Uruguay from an estimated 100 buses that drove to Olavarría, by Monday morning most had returned but six were still missing.