Macri administration feels the pressure from trade unions
Tuesday, March 14th 2017 - 12:08 UTC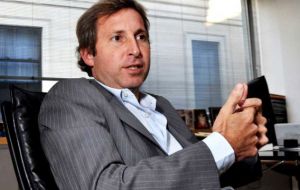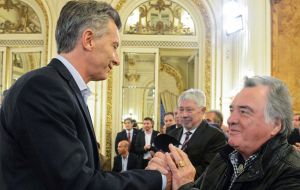 Argentine labor unions appear to be pressuring the government by holding marches and threatening strikes ahead of the country's key October mid-term elections, Interior Minister Rogelio Frigerio said Monday.
President Mauricio Macri took office 15 months ago promising to jumpstart the economy by regaining the trust of investors after a decade of free-spending populism. Until last week, organized labor had signaled patience with his program aimed at cutting labor costs, interest rates and the fiscal deficit.
Thousands of workers picketed March 7 in protest of job cuts and wages that have not kept up with inflation, which was clocked at about 40% in 2016. Strikes by major labor groups have been threatened over the weeks ahead.
"One can suspect that this is linked to the fact that this is an election year," Frigerio told reporters. Labor issues, he said would be resolved through negotiation rather than strikes.
"We had a very tough first year of policymaking, and we felt we had the support of big labor organizations," he added. "You have to ask yourself why they were with us during the toughest months and are now threatening strikes and marches."
The one-day labor march last week attracted tens of thousands of demonstrators in Buenos Aires. It was the first demonstration by the CGT umbrella labor group this year and came amid a two-day teachers' strike that delayed the opening of school after the summer holidays.
Employers have been hard-pressed to raise pay packages in line with inflation while Macri's push to cut business costs has prompted layoffs in the public and private sectors.
He needs his Cambiemos political coalition to do well in October's elections in order for him to keep pushing his economic reforms through Congress and position himself for re-election in 2019.
A strong union leader who during Macri's first year in office supported him, and is now somehow disenchanted described the president as a "bad tempered kid", stubborn, who is not aware of danger.
"He (Macri) called on Friday to reprehend me, he's a stubborn kid, bad tempered" said Luis Barrionuevo. "I told him he was surrounded by incompetent, stupid snitches who hadn't a clue how people were feeling".
Apparently Macri told Barrionuevo "to be careful" and "look after yourself", which the union leader interpreted that "most probably he would have my union headquarters raided by the tax people looking for alleged unreported expenses, but I couldn't care less. If he's not aware how people feel and lets snitches full his ears, it's up to him"