Falklands' television service to be fully restored this month; new transmitter on Sapper Hill
Thursday, March 16th 2017 - 12:26 UTC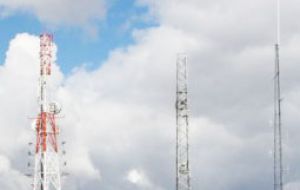 Falklands' television viewers in Stanley will be able by the end of the month, weather permitting, to again have a full service of its former level of transmission. A release from the Falklands government recalls that viewers are well aware of the problems encountered over the last nine month, caused by the TV transmitter falling from the mast on Sapper Hill.
In effect BFBS are pleased to advise that the new TV transmitter and mount have now arrived and they will be working with Sure to arrange installation on the mast, which should fully restore the service to its former level of transmission.
The teams are planning to undertake this work on Tuesday 21st March 2017, however the works are very much weather dependent, so this date is still to be confirmed.
In order to carry out the work, BFBS will need to shut down TV and Radio transmission from Sapper Hill, therefore TV viewers and radio listeners in Stanley are notified that all TV and Radio services will be affected. An all-day outage is anticipated at this stage; however the predicted hours will be advised nearer the time.
Please note that Falklands Radio/World Service will still be available in the Stanley area on 88.3 FM. Camp viewers and listeners will be unaffected.
Finally BFBS and FIG apologize for any inconvenience caused whilst this work is being undertaken. A further announcement will be issued nearer the time once weather conditions are known.