Political seism in Brazil: prosecutor asks Supreme Court to open 83 new graft investigations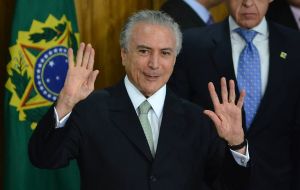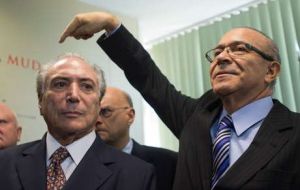 Brazil's top public prosecutor seismically expanded a corruption probe of the country's political establishment on Tuesday, asking the Supreme Court to open 83 new investigations of politicians named in explosive plea bargain testimony. Prosecutor General Rodrigo Janot also requested that the Court send 211 other requests to lower courts based on much-anticipated testimony by executives of engineering group Odebrecht implicated in Brazil's biggest-ever graft scandal.
Under Brazilian law, cabinet ministers, federal senators and lower house lawmakers can be tried only in the Supreme Court, where cases often take years to come to trial.
Janot could not disclose the names of the politicians and others covered by his request as the Odebrecht testimony and related investigations are still under seal. He asked Supreme Court Justice Edson Fachin to lift the judicial secrecy on the case for the sake of transparency and the public interest.
President Michel Temer has not been directly implicated in illicit party funding and has denied any wrongdoing in the sprawling three-year corruption scandal centered on overpriced contacts at state-run oil company Petrobras.
Dozens of politicians reportedly named for taking kickbacks in the testimony by Odebrecht executives included senators in Temer's Brazilian Democratic Movement Party (PDMB) and the allied Brazilian Social Democracy Party (PSDB), which led the impeachment of leftist Dilma Rousseff last year.
The new investigations will be a test for Temer as he strives to pull Latin America's largest nation from its worst recession in more than a century.
Temer succeeded Rousseff in May, vowing to eliminate corruption and restore fiscal discipline. But he has already lost several ministers to bribery allegations.
His chief of staff, Eliseu Padilha, a key organizer of political support in Congress for a crucial reform of Brazil's costly pension system, is on thin ice after an Odebrecht executive was reported to have said he asked for a cash donation for Temer's 2014 campaign.
Janot first opened investigations of seated politicians implicated in the kickback scandal in March 2015, but only five have been indicted and none convicted.
The new round of investigations fueled by the Odebrecht testimony follows 10 months of negotiations with the family-owned firm, Latin America's largest engineering group.
In December, Odebrecht signed a leniency accord with prosecutors, agreeing to pay 6.7 billion reais (US$1.9 billion), admit guilt and offer details of bribes it paid. Seventy-seven of its executives, including family patriarch and Chairman Emilio Odebrecht and his jailed son and former Chief Executive Marcelo Odebrecht, made some 950 statements to a team of 116 prosecutors across the country, Janot's office said.