Macri administration faces unions' first general strike scheduled for April 6
Friday, March 17th 2017 - 07:38 UTC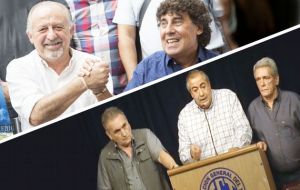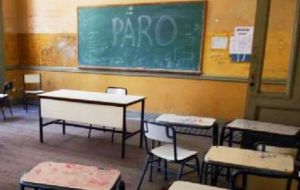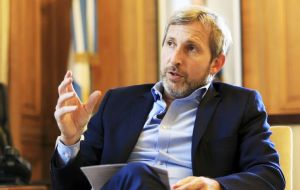 Argentina's largest union announced a one-day general strike on April 6, increasing pressure on President Mauricio Macri's conservative government six months before mid-term congressional elections. The CGT says Macri's policies, including austerity measures like reducing subsidies on fuel and electricity, are resulting in lower real salaries and lost jobs.
"There are many reasons why this strike has been called and hopefully it will cause the government to reconsider and really listen to the most needy sectors," Carlos Acuña Peña, a CGT leader, said on local television.
CGT has staged protests in recent weeks, but April 6 would be the first general strike in Argentina since Macri took office in December 2015 promising to attract investment and restore economic growth.
The strike announcement comes amid tough salary negotiations between provincial governments and teachers' unions that delayed the start of school for many children.
While Macri had some early success negotiating with unions, clinching labor deals with oil and auto workers to lower labor costs, the recent struggles may worry investors who want to see more reforms pass congress after the October vote.
Macri's reforms caused inflation to spike to around 40% in 2016, when the economy contracted. There have recently been some signs of improvement however, including positive month-on-month economic growth in November and December.
Argentine labor unions appear to be pressuring the government by holding marches and threatening strikes ahead of the country's key October mid-term elections, Interior Minister Rogelio Frigerio said.
Thousands of workers picketed last March 7 in protest of job cuts and wages that have not kept up with inflation.
"One can suspect that this is linked to the fact that this is an election year," Frigerio told reporters. Labor issues, he said would be resolved through negotiation rather than strikes.
"We had a very tough first year of policymaking, and we felt we had the support of big labor organizations," he added. "You have to ask yourself why they were with us during the toughest months and are now threatening strikes and marches."
The one-day labor march last week attracted tens of thousands of demonstrators in Buenos Aires. It was the first demonstration by the CGT umbrella labor group this year and came amid a teachers' strike that delayed the opening of school after summer holidays.
Employers have been hard-pressed to raise pay packages in line with inflation while Macri's push to cut business costs has prompted layoffs in the public and private sectors. He needs his Cambiemos political coalition to do well in October's elections in order for him to keep pushing his economic reforms through Congress and position himself for re-election in 2019.