UK government rejects Scottish independence referendum: "now is not the time"
Friday, March 17th 2017 - 06:27 UTC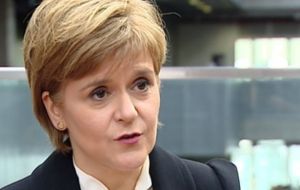 The UK government is to reject calls for a Scottish independence referendum before Brexit after Theresa May said "now is not the time". The prime minister said the focus should be on getting the best Brexit deal for the whole of the UK.
Scottish Conservative leader Ruth Davidson said Nicola Sturgeon's demand for a vote by the spring of 2019 would be rejected "conclusively". Ms Sturgeon said blocking a referendum would be a "democratic outrage".
Ms Sturgeon, the Scottish first minister, told BBC Scotland: "It is an argument for independence really in a nutshell, that Westminster thinks it has got the right to block the democratically elected mandate of the Scottish government and the majority in the Scottish Parliament.
"You know history may look back on today and see it as the day the fate of the union was sealed."
Ms Sturgeon has called for a referendum to be held in the autumn of 2018 or the spring of the following year, to coincide with the conclusion of the UK's Brexit negotiations with the EU.
But Mrs. May said her message to Ms Sturgeon was clear - "now is not the time". The prime minister added: "I think we should be working to get the right deal for Scotland and the UK with our future partnership with the European Union.
"It would be unfair to the people of Scotland that they would be being asked to make a crucial decision without the information they need to make that decision."
The British prime minister also said the country should be "working together, not pulling apart".
Ruth Davidson argued a second Scottish independence referendum should only be held after the UK leaves the EU. Ms Davidson later told a media conference in Edinburgh that the people of Scotland should have the right to see how the UK was working after leaving the EU before deciding whether or not they wanted independence.
She added: "People should only be asked to make a judgment on whether to leave or remain within a 300-year-old union of nations when they have seen for themselves how that union is functioning following Brexit.
"They should also know what the alternative entails and we have seen no clarity from the SNP on even the basic questions of their proposition."
Scottish Secretary David Mundell said: "The proposal brought forward is not fair, people will not be able to make an informed choice.
"Neither is there public or political support for such a referendum. Therefore we will not be entering into discussions or negotiations about a Section 30 agreement and any request at this time will be declined."