Holyrood will formally request Wednesday Westminster authority to hold a second independence referendum
Monday, March 20th 2017 - 08:31 UTC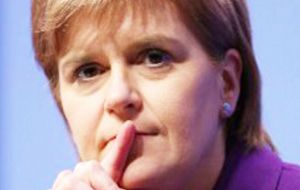 First Minister Nicola Sturgeon is to warn Prime Minister Theresa May she will "shatter beyond repair" the notion that the UK is a partnership of equals if she turns down a request from the Scottish Parliament to hold a second independence referendum.
MSPs are expected to back the First Minister's call for a Section 30 order to be granted when Holyrood votes on the issue on Wednesday. That would then see the Scottish Parliament formally request that Westminster grants it the authority to hold a legally binding referendum.
Theresa May has already said the time is not right for another ballot on independence, saying such a vote would be "bad" for both the UK and Scotland.
Ms Sturgeon will tell the SNP spring conference in Aberdeen that if the vote is passed next week, the demand for another independence ballot will become "the will of the democratically-elected Parliament of Scotland".
She will say: "To stand in defiance of it would be for the Prime Minister to shatter beyond repair any notion of the UK as a respectful partnership of equals."
The First Minister shocked the UK Government with her announcement on Monday that she wants a second independence referendum to be held between autumn 2018 and spring 2019.
With the UK having voted to leave the European Union in 2016 and Scotland voting to stay part of the bloc, she will insist the future "looks very different" than it did in 2014 when Scotland said No to independence.
Closing the SNP conference, Ms Sturgeon will say: "We know change is coming. The EU referendum has made sure of that. The only question is what kind of change."
She will insist Scots are "not powerless" and can "still decide which path we take".
Ms Sturgeon will say: "Whatever our different opinions on independence, we can all unite around this simple principle – Scotland's future must be Scotland's choice."