Brazilean adulterated meat situation "no obstacle for EU/Mercosur trade talks"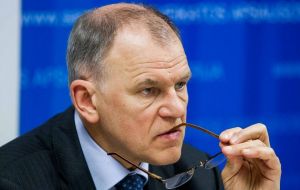 The adulterated meat situation in Brazil is no obstacle for the current trade negotiations between the European Union and Mercosur, said Eidta Hrdá, Managing Director for the Americas from the European External Action Service, currently in Buenos Aires.
EU and Mercosur representatives have been holding negotiations this week, hoping to advance in several areas including phytosanitary conditions, "but the current meats' scandal is absolutely in no way an obstacle for the current negotiations", said Hrdá.
Brazilian Federal Police last week exposed an extended corruption scheme which bribed inspectors to allow different tainted meats to be exported or consumed domestically. Countries in Asia, the Americas and the EU have imposed different restrictions and control measures on beef and other meats from Brazil.
"On the contrary phytosanitary conditions contribute to a better understanding between both sides. It is in the interest of the governments to provide safe, healthy food. What happened can occur with other products, it depends on the quality controls and trust in the officials involved", added the EU representative.

The European commissioner for Health and Food security, Vytenis Andriukaitis is scheduled to meet on Monday in Brazil with Agriculture minister Blairo Maggi, to address the adulterated meat scandal.
Director Hrdá is in Buenos Aires heading a mission of fifty EU diplomats discussing with their Mercosur peers. "I can say that we have come across with a very positive atmosphere with much good will from both sides to continue advancing and reaching a trade and cooperation accord sometime in the near future pointed out the head of the EU mission".
From Brussels it was announced that the four Brazilian abattoirs and processing plants which exported beef to the EU have been banned.