Comodoro/Falklands link: "approval of route" does not mean "approval of flights", cautions Malcorra
Friday, March 24th 2017 - 19:42 UTC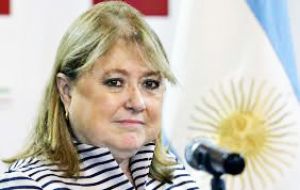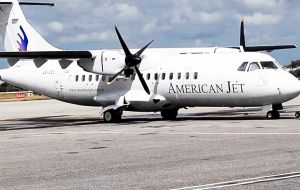 Argentine foreign minister Susana Malcorra downplayed enthusiasm about a possible air link between Comodoro Rivadavia and the Falkland Islands arguing that the "approval of routes" does not mean the "approval of flights".
Last week the Argentine Transport ministry announced authorization to several new low cost airlines to exploit certain air links, among which American Jet, which presented plans to fly regularly between the Patagonian city of Neuquén, Comodoro Rivadavia and the Falklands with passengers, cargo and mail.
According to Resolution 136-E/2017 the concession is for fifteen years and the companies must begin operations in the following 180 days of publication in the Official Gazette and obtaining an Air Services Exploitation Certificate.
Malcorra besides stating that route approval does not mean flight approval, revealed that in fact some of the air links given the green light are "to cities which still have no airport".
"It was an initial package of the new air policy and this included a request for the Comodoro Rivadavia/Falklands route, and the pertinent approvals still must be obtained", underlined the Argentine minister.
Additional flights to the Falklands from the South American continent have been a long aspiration of the Falklands' business community but feelings are split since most of the community apparently does not favor a second flight if this means calling in Argentina. Islanders clearly prefer flying to third countries, such as Brazil and Uruguay.