Falklands should be left to develop and establish links with other regional countries
Friday, March 24th 2017 - 11:43 UTC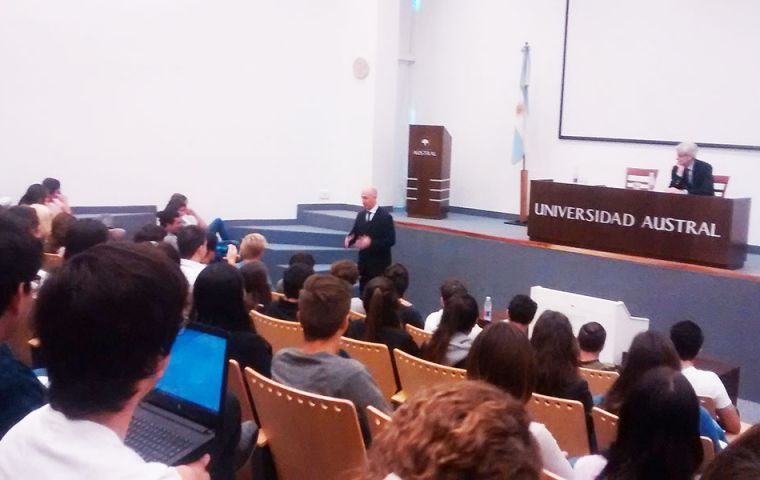 UK ambassador in Argentina Mark Kent reiterated Falkland Islands sovereignty was not in the bilateral agenda, although the two countries can cooperate in other areas of mutual interest, letting the Islanders to develop and establish links with other South American countries.
During a forum on UK investments in Argentina, held at the University Austral of Pilar, Ambassador Kent was interviewed by students on the Falklands/Malvinas sovereignty and the current situation.
"It's not in the agenda. What happens is we both have very clear positions with respect to sovereignty, but this does not mean we can't cooperate in a variety of other issues", said the UK ambassador.
"It's important we let the Islanders to develop, keep their right to self determination and promote links between the Islands and other regional countries such as Brazil, Chile, Uruguay and Argentina".
However despite Falklands/Malvinas, the UK wants to promote bilateral trade and investment with Argentina, anticipating a post-Brexit scenario.
"The main core of this situation is going to be a greater opening towards all markets, closer links and opening new trade opportunities. We are not going to close ourselves in, Brexit does not mean the beginning of protectionism, rather the contrary" explained ambassador Kent, adding that UK companies would be stimulated to go out into the world and establish trade links with all countries.
And this means the possibility of a free trade agreement between the UK and Mercosur.
More precisely on UK investment in Argentina, Ambassador Kent was very supportive but cautioned this depended on the companies, "it's not a government decision".
However he admitted that when faced with a more friendly atmosphere, greater legal certainty, more transparency, not only UK companies will be attracted to invest in Argentina.
"I think we are advancing on that path. Currently we have two, three UK companies with investment plans quite advanced , and this is the start, as Argentina moves forward with the current reforms process, we are going to see this reflected in the international community in the form of more investments", concluded UK ambassador.