Argentina's naval trainee tall ship "Libertad" scheduled to call at Portsmouth
Monday, March 27th 2017 - 08:08 UTC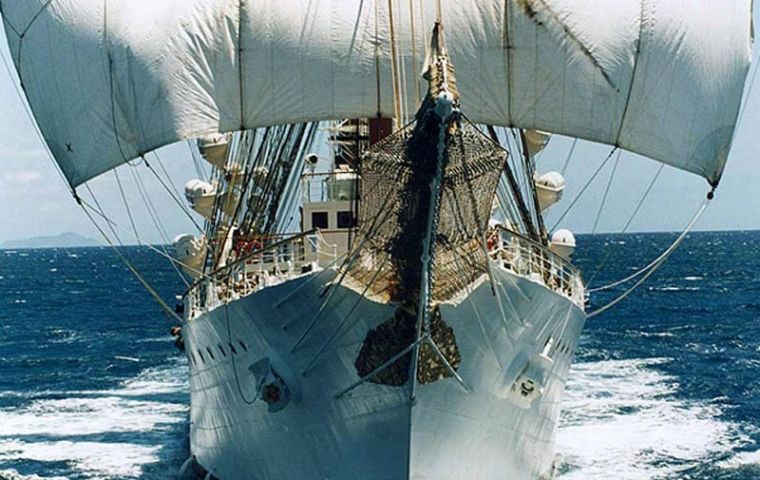 Argentina's Navy school vessel, tall ship Libertad left Buenos Aires on Saturday for its 46th training world tour, scheduled to last six months calling in thirteen different ports, including Portsmouth, announced the ministry of Defense.
The frigate carries 61 cadets, 14 of them women belonging to the last promotion of the Naval School and once the tour of the Americas and Europe is over, cadets will be taking their posts as full officers. The vessel is under the command of Captain Fernando Maglione. The crew includes 27 officers and 187 petty officers.
She should be back October 7 after sailing 23.000 nautical miles. Ports to be called include: Fortaleza (Brazil), Veracruz (Mexico), Charleston and Miami (U.S.), Den Helder (Holland), Wilhelmshaven (Germany), Malmo (Sweden), Boulogne Sur Mer (France), Portsmouth (UK), Barcelona and Santa Cruz de Tenerife (Spain), Río de Janeiro (Brazil) and Montevideo (Uruguay).
Last week President Mauricio Macri and Defense minister Julio Martínez headed the departure ceremony. Argentine ministry of Defense reports that Libertad has spent 17 of her 54 years at sea covering 800.000 nautical miles, visiting over 500 ports in sixty countries.
Around 11,000 Argentine seamen have been trained aboard and Libertad holds the world speed record for crossing the North Atlantic – covering 2,058 miles from Cape Race (Canada) to the line between Dublin/Liverpool, in just eight days and 12 hours.
In July 2016, Libertad returned to Liverpool, for the first time in 24 years, and later called at Dublin.