Netherlands prepared to help with Falklands' dialogue, once UK leaves the EU
Wednesday, March 29th 2017 - 07:59 UTC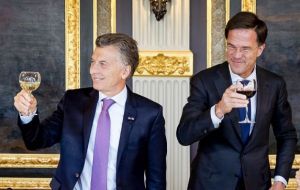 Holland is prepared to contribute to the Falklands/Malvinas dialogue between Argentina and UK, once Britain has definitively left the European Union, said on Tuesday foreign minister Susana Malcorra who is part of the official delegation of president Mauricio Macri state visit to the Netherlands.
"The president of the Senate foreign affairs committee asked us how the European Union can contribute with the Malvinas issue. This obviously assuming that the UK definitively leaves Europe", explained Malcorra speaking to the Argentine media in Holland.
"While the UK is part of the EU there is nothing that can be done, it's a hypothetic question looking to the future and we replied that in this case, support from the EU for dialogue on Malvinas will be most welcomed, as established by the United Nations", added Malcorra.
But "for the next two years the UK will continue to belong to the EU and Holland is tied by the EU agreements", underlined the Argentine minister.
"One thing is to keep the possibility of dialogue with the UK and the other is what the EU could do eventually, in the framework of the current integration. But I can't work on hypothesis, what is clear is that EU members can't intervene, although eventually they could", pointed out Malcorra.
President Macri during the official lunch in The Hague hosted by the Dutch Royal family and government said that Argentina "must show every day that it is coherent and reliable" to consolidate growth. "We've lost too many years in confronting history, let's not lose any more time discussing what happened and why it happened".
Prime minister Mark Rutte praised the economic policies of the Macri government and its commitment to dialogue, saying that the Argentine president "has implemented an impressive program of reforms, which are beginning to fructify".
PM Rutte also recalled the 2013 agreement reached in Holland between business leaders and unions in a very delicate moment for the Dutch economy. "We needed to implement urgent reforms for recovery and jobs, but this was not possible on our own, we needed the community to support us and we managed it. We removed confrontation from the center of the political stage because with irrational fighting nobody wins, with agreement we all win".