Madrid sends Brexit "message of calm" to Spaniards who work in Gibraltar
Thursday, March 30th 2017 - 10:15 UTC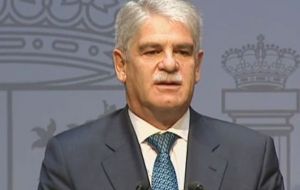 Spain's Foreign Minister, Alfonso Dastis, has told a leading German newspaper that Madrid will not be taking "any type of punitive measures" at the border with Gibraltar after Brexit. Dastis has made similar statements in recent days to Spanish media, but his comments to Frankfurter Allgemeine Zeitung are the first time he has spoken about the border to the international media.
They were published a day before Prime Minister Theresa May triggered Britain's withdrawal from the European Union under Article 50 of the EU treaty, setting in motion a two-year process after which the UK – and by extension Gibraltar – will be outside the bloc.
The statement from Dastis was interpreted as a "message of calm" to Spaniards who work in Gibraltar, saying their interests will be kept in mind by Spain.
Gibraltar's Chief Minister, Fabian Picardo, said that minister Dastis' latest comments show there has been a huge transition in tone from the antagonistic posture of his predecessor, Jose Manuel Garcia Margallo.
But, while the new Foreign Minister's comments will provide some comfort to those who have to cross the frontier into Gibraltar to work, CM Picardo has warned that Spain's sovereignty objective remains unchanged. Dastis has said he will not allow Gibraltar to achieve anything in the Brexit negotiations that undermines Spain's sovereignty claim or her economic interests.