Falkland Islands Journal CD 4th edition: local history at your fingertips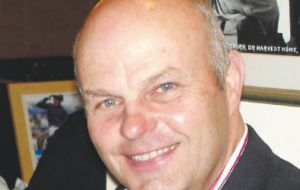 Since 1967, the Falkland Islands Journal has been an independent annual academic publication on all aspects of the history, natural history and geography of the Falkland Islands and associated regions. Special features are included each year. The emphasis is on recording the culture, heritage and natural environment of the Falkland Islands.
The Falkland Islands Journal CD project was originally an initiative of FIDC in 1998-1999 where archived Journals and Church Papers were scanned by students during their winter holidays, under the guidance of Synergy Information Systems. The aim was to produce a complete catalogue from 1967 forward.
In 2002, FIDC approached Synergy to take on the work once the students had finished, and helped to secure funding through the Foreign and Commonwealth Office Economic Diversification Program Budget Grant scheme to purchase the necessary equipment.
In 2005, the then general manager of FIDC Julian Morris wrote an endorsement for the CD, which was included in the accompanying booklet, as follows: "Essential for any visitor, business user or curious browser, giving easy and instant access to 150 fascinating years of history, research and endeavor."
The Falkland Islands Journal CD was designed to allow users to view each issue of the Journal from 1967 through 2015 using any PDF Reader. Each issue is fully bookmarked, with the titles in the Table of Contents electronically linked to the corresponding article. There is a powerful search engine and index facility, which allows the user to enter any word or phrase, and a link to every occurrence, will be easily accessible.
Jim McAdam, the editor of the paper copies of the Journal, was recently in the Islands, and the Dockyard Museum hosted a talk by Mr. McAdam on the history and development of the Falkland Islands Journal since its inception in 1967.
The local liaison for the Falkland Islands Journal is Alison Barton, who is happy to answer all queries, including subscription details and article submissions (alison.barton@falklandislandsjournal.org).
The 1st Edition of the Falkland Islands Journal CD was launched in 2004, and there have been two subsequent editions released, including all new Journals in each edition. The 4th Edition CD, covering the years 1967-2015, is now on sale at the Pod Gift Shop, Capstan Gift Shop and Dockyard Museum shop, as well as directly from Synergy (admin@synergy. co.fk for details) (Penguin News)