Macri will receive Malvinas' Families and Combatants on Sunday 35th anniversary of the war
Saturday, April 1st 2017 - 22:58 UTC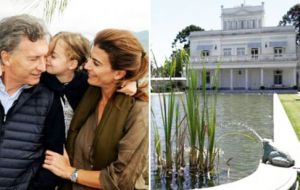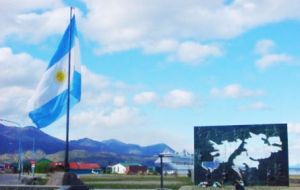 Argentina prepares to commemorate this Sunday the Malvinas War Veterans and Fallen Day, which according to the official calendar marks the 35th anniversary of the start of the 1982 war when the Falklands were invaded by Argentine forces, leading to a 74-day conflict, which left 907 dead, (649 Argentines, 255 British and three Falkland Islanders).
President Mauricio Macri will host Sunday morning in the Olivos residence a delegation of 25 people from different parts of Argentina under the umbrella of the Malvinas Families Commission headed by Maria Fernanda Araujo, plus a group of 20 veterans belonging to the Confederation of Combatants, with chairman Ruben Rada, according to the official program announced at Government House.
The families and ex combatants will be accompanied by staff from the Human Rights Secretariat which is involved in the coming task of indentifying the remains of 123 unknown Argentine soldiers buried in the Darwin cemetery, following an agreement between Argentina with the United Kingdom, and Falklands consent. Forensic teams under the International Red Cross are scheduled to address the identification task, with DNA samples from relatives, from June to September later this year.
However relatives and some of the veterans have been objecting to the identification process since they complain that the previous government did not consider them or interview them to obtain their consent, leaving many families out, and above all they completely reject that the remains in Darwin cemetery be considered as NN, that is as victims of the Argentine dictatorship. On the contrary they are "heroes who did the utmost sacrifice for the motherland".
Of the many events scheduled across Argentina on Sunday, the main one which includes the traditional vigil Saturday evening in Rio Grande, Tierra del Fuego and the Sunday ceremony in Ushuaia will be headed by Interior Minister Rogelio Frigerio, provincial governor Rosana Bertone and Ushuaia mayor Walter Vuoto.
Another commemoration is scheduled in Plaza de Mayo, Sunday afternoon by an array of human rights organizations among which the Provincial Memory Commission, which recently visited the Falklands and was involved in a strong controversy with Malvinas Families and Veterans regarding the NN denomination of the 123 unknown soldiers buried in Darwin cemetery.
These groups are also involved in court cases against Argentine military officers who allegedly tortured and abused their own conscripts stationed in the Falklands during the 1982 conflict.
Sunday evening there will be a religious service at the Metropolitan Cathedral in Buenos Aires Plaza de Mayo to honor the memory of the 649 Argentines who lost their lives during the conflict. Buenos Aires auxiliary bishop Monsignor Enrique Eguía Seguí will hold the mass.