UK twice offered to return Malvinas, but twice Argentina rejected, now it's a fifty year game
Monday, April 3rd 2017 - 09:07 UTC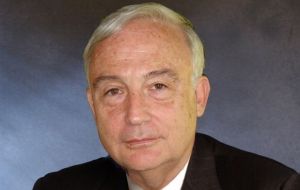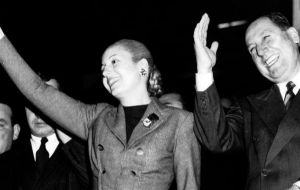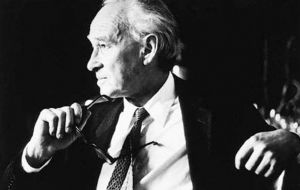 "Twice Great Britain offered to return Falklands/Malvinas sovereignty to Argentina, and Argentina frustrated the two opportunities", and one of those offers involved the government of Margaret Thatcher, revealed diplomat Andrés Cisneros, Argentine deputy foreign minister with Guido Di Tella in the nineties.
Sunday, April 2nd, marked the 35th anniversary of the Argentine military invasion of the Falklands in 1982 and as such both the British and Argentine media have recalled events with ample coverage.
Cisneros who is considered knowledgeable in Malvinas affairs and worked with Di Tella during the government of ex president Carlos Menem was interviewed on the issue and mentioned the two opportunities.
Accordingly the first offer occurred in 1974, when Argentine ex president Juan Domingo Perón had returned to office and the British ambassador was Sir Donald Hopson who presented the initiative to then foreign minister Alberto Vignes.
"The idea was a leaseback, by which UK recognized Argentine sovereignty of Malvinas, but it became effective a hundred years later".
"The second offer was very similar", says Cisneros who recalled that the "messenger" then was former deputy Foreign secretary Nicholas Ridley in 1979. Argentina was ruled by a military Junta which frustrated the initiative by saying 'yes we accept the return of full sovereignty, but not in a hundred years, make it at the end of the year'"
It was a way of saying no, explained Cisneros who then added, and "do you know who was prime minister then, Margaret Thatcher".
Following these frustrations, according to Cisneros the invasion and war launched by General Leopoldo Galtieri and Admiral Jorge Anaya, caused "terrible, incalculable damage", but nevertheless "we must continue with the claim".
Cisneros admits he is not sure if some day the Islands will be "returned" to Argentina, "I don't see much chances, probabilities, but we can reach an honorable agreement representing the interests of both sides"
As to the chances of Argentine claims, Cisneros warned that the international scenario is changing: "it's more complicated" from the moment that the country is claiming "territorial rights, which are evident" but in the world the significance of these rights is losing ground, while there is a greater priority for peoples' rights which evidently directly influences the claim of the Islanders who reject point blank Argentine citizenship.
"Anyhow, I think there are good expectations, and if the issue is well addressed it will be solved sometime in fifty years time".
In the short term Cisneros said that claiming sovereignty now, and demanding it now, is useless, since the British will remain closed to any suggestions on the matter on those terms. Therefore, "we must establish a cooperation, understanding relation, without dropping the sovereignty claim".