Very Large Ore carrier with 260.000 tons o iron ore disappears in mid Atlantic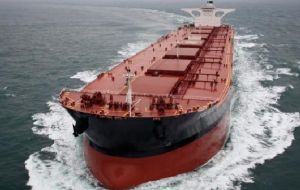 A South Korean ship carrying thousands of tons of iron ore and a crew of 24 has vanished in the South Atlantic after setting out from a port in Brazil. Two Filipino sailors were rescued on Sunday from a life raft and are expected to give investigators details of how and why the Stellar Daisy foundered as it headed south.
The vessel, a Very Large Ore Carrier with a capacity of 260,000 tons, was taking a cargo of iron ore from the Ilha Guaiba terminal, near Rio de Janeiro, to China for use in the steel industry. Its route would have taken it past Uruguay and Argentina, around Cape Horn and then across the Pacific.
But South Korea's Yonhap news agency said a message sent back to the owners' office in Seoul on Friday said the ship was taking in water on the port side and was listing badly.
It is thought to have gone down when it was 1,500 miles from shore, east of Uruguay, and Fleemon reported it had sent a distress signal back to its owners' office in Seoul. Several other empty lifeboats and rafts were found in the area.
The ship was being operated by a South Korean company, Polaris, but was flying under the flag of Marshall Islands, which is common practice. It had a crew of eight South Koreans and 16 Filipinos.
Brazilian and Uruguayan navy ships and aircraft are searching the area and ships passing by are also being asked to keep an eye out for survivors.
Uruguayan Navy spokesman Gustavo Jaunsolo said the ship had been 2,000 nautical miles from Montevideo. He said the first of four merchant ships to reach the scene had detected a 'strong smell of fuel' and spotted debris, suggesting the ship had sunk. The ship was built in 1993 and was previously known as the Sunrise.