Brazil's Temer strategy to fend off electoral trial on campaign funding is working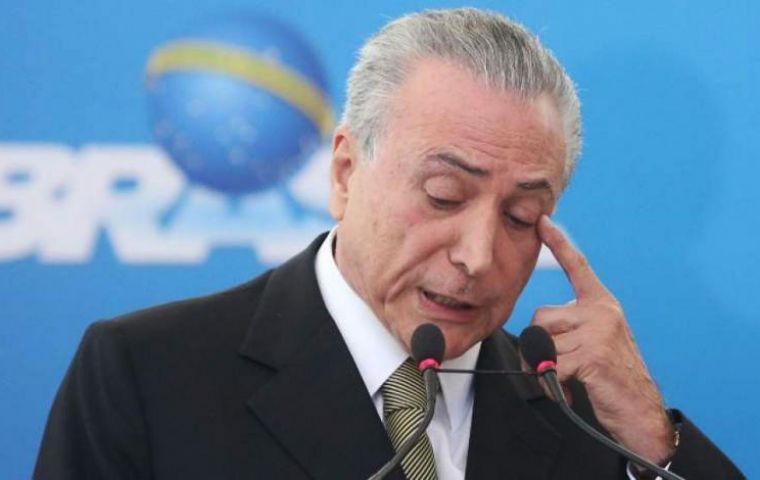 Brazil's top electoral court on Tuesday delayed proceedings in a landmark trial about illegal campaign funding that could lead to the removal of President Michel Temer less than a year after he took over from impeached leftist Dilma Rousseff, and 18 months before the 2018 presidential election.
The Supreme Electoral Tribunal (TSE) decided to postpone a verdict until at least May to hear additional witnesses, including former finance minister Guido Mantega, which plays into Temer's defense strategy of dragging out the case so he can stay in office.
It is the first time the TSE will decide on the mandate of a sitting president. If the seven-justice tribunal decides that Rousseff and Temer, her running mate, used illegal donations to fund their 2014 campaign, it could annul the election result and remove the conservative president from office.
Congress would then have 30 days to elect a successor, plunging Latin America's largest nation deeper into the political instability that has prolonged its worst recession on record.
The court granted a request by Rousseff's defense team for Mantega to defend himself before the tribunal against allegations he raised illegal funds for her 2014 campaign.
It also granted a prosecutor's request to call Rousseff strategist Joao Santana as a witness, following allegations that 20 million Reais (US$6.4 million) of his fees were paid offshore by engineering conglomerate Odebrecht.
The three political parties involved - the Workers Party, the PMDB and PSDB - were also given another five days to present their arguments.
"With the new proceedings, there is no way of knowing when this trial will be over," said Temer lawyer Gustavo Guedes. The strategy of Temer's legal team is to delay proceedings as long as possible and appeal any adverse ruling to the Supreme Court so the case is not decided until after the next presidential election in October 2018, sparing him removal from office.
The TSE judge given the task of studying the case, Herman Benjamin, is expected to seek to annul the 2014 election. He criticized the delay in a case that was opened two-and-a-half years ago.
"The 2014 election will go down as the longest in Brazilian history," Benjamin told the court. "We can't turn this into an endless trial. We can't hear everybody. We can't hear Adam and Eve and the serpent."
However the prospect of removing a second president in less than a year is sure to stir political turbulence, just as Brazil's economy is showing tentative signs of emerging from its worst recession on record.
"It would create more confusion," ex president Fernando Henrique Cardoso, of the PSDB party, warned in a radio interview on Monday, urging the court not to make a decision that would scare off investment.
Among possible outcomes, the court could decide to throw out the case because Rousseff is no longer in office or declare her election victory void but decide that Temer had no responsibility in the illegal funding.
Temer is currently serving the third year of Rousseff's second four-year term. If a president is removed in the last two years of a four-year term, Congress would get to pick the successor rather than via a popular vote. His coalition hold a majority in Congress, which would enable him to stay in office.