Over 55% openly disapprove of president Temer's performance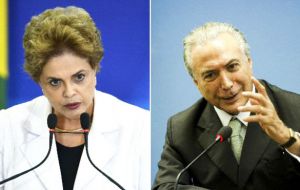 The approval rating for the government of Brazil's President Michel Temer has fallen to just 10%, with 55% actively disapproving of its management of the country, a new poll by the Ibope polling company showed on Friday.
It is a downturn from December's poll, which found a 13% approval rating and a 46% disapproval level.
Temer's personal approval rating stood at 10%, with 7% not answering and just 17% of respondents said they trusted the president.
Compared to the government of his predecessor, Dilma Rousseff, 18% said Temer's administration was better; 41% said Rousseff's tenure had been superior and 38% found them the same.
Temer succeeded Rousseff last year, provisionally in May and definitively in August, when she was impeached by the Senate for fiscal irregularities.
Among those who dislike Temer's government, 26% gave their main reason as his proposed social security reform, 9% spoke about the Operation Lava Jato (Car Wash) anti-corruption investigation, and 5% said it was due to corruption in the government.
The poll was carried out by Ibope between March 16 and 19, interviewing 2,000 people in 126 municipalities nationwide, with a margin of error of plus/minus 2 percentage points.