Maduro blows up last bridge with Mercosur and causes deep rift in Uruguayan ruling coalition
Thursday, April 6th 2017 - 06:08 UTC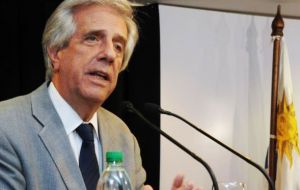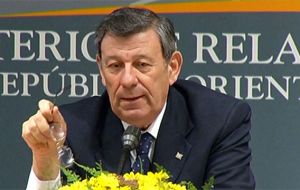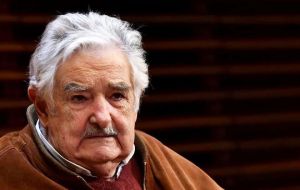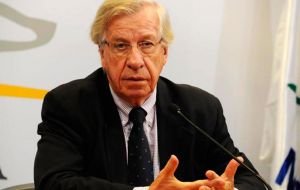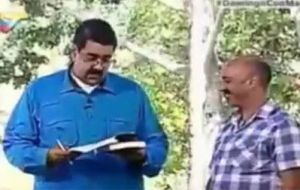 Venezuelan president Nicolas Maduro seems to have blown up the last bridge to Mercosur when he launched a barrage of accusations against Uruguay's foreign minister which triggered an immediate reaction from president Tabare Vazquez, who demanded evidence of the charges or a public retraction from the embattled Maduro. But the conflict has also openly exposed the deep rift inside the Uruguayan ruling coalition regarding the Bolivarian revolution "anti imperialist" regime.
Uruguay has been until now, virtually the only support of Venezuela's membership in Mercosur, containing the other founding members intent of not only suspending the Maduro regime but expelling it point blank from the South American trade group. At the heart of the discussion is whether Venezuela can be formally identified as a "democracy", which Brazil, Argentina and Paraguay do not accept and condemn such aspiration plus accusing the regime of human rights violations, holding political prisoners, persecuting and jailing opponents, not to speak of the overall social and economic deterioration to which the Venezuelan people are exposed.
Uruguay's attitude towards Venezuela has cost it dearly particularly with the Brazilian government of president Michel Temer.
Following Maduro's claims that foreign minister Nin Novoa was repeatedly "coordinating" with the United States "aggressions against Venezuela", president Vazquez hand wrote a letter requesting the Venezuela president "to provide evidence of such unfounded claims" or if not, "to publicly retract". He underlined "such expressions seriously affect the traditional friendly relations between the two countries" and added "public offences demand public apologies".
Maduro in his daily broadcasts had been complaining that "for over a week I have been trying to contact that great president of Uruguay, and best friend of Venezuela, Tabare (Vazquez) to ask him about that traitor next to him, his foreign minister who coordinates attacks with the US against Venezuela". In Montevideo Vazquez told the media he wouldn't pick up the phone until Maduro came up with evidence or a retraction.
Furthermore over the weekend Uruguay moved closer to its fellow members and subscribed a Mercosur strong condemnation of the Venezuelan regime, questioning its democratic values, requesting the immediate release of political prisoners, respect for the electoral calendar and clear division of branches in government.
Vazquez and Nin Novoa are no fans of Maduro, but the strong radical wing in the ruling Broad Front coalition identified with ex president Jose Mujica and his Communist allies would not allow, until this last weekend, the Uruguayan government to follow with the other Mercosur members extreme position against Venezuela. Vazquez is conditioned by the coming discussion of the Uruguayan budget which needs urgently to be balanced.
Although Mujica argues he's against any regime which has political prisoners as a matter of principle, he argues that "democracy as such is being questioned not only in Venezuela but in the whole world". For his communist and radical allies the Venezuela situation is a manipulation by "imperialism, the Latin American oligarchy and neo-liberal economic policies" against a people's democratic regime and thus the system has the right to defend itself.
Finance minister Danilo Astori, who lost the election to Mujica in 2010, and has an orthodox approach to economics and loathes the spendthrift radicals which have impeded him from bringing down a more than 4% GDP budget deficit, also took the opportunity to come out strongly against Maduro.
"Maduro's statements are an insult and unfair with Uruguay", said Astori. "His statement referred to the Uruguayan government headed by president Vazquez, whom he declares to respect are a very serious insult which, in no way, can be accepted".
The minister added that besides an insult Maduro's expressions are profoundly unfair, "Uruguay had acted with infinite patience and tolerance, and if Venezuela still remains in Mercosur it is thanks to Uruguay which has moderated, calmly with an evolution towards dialogue to address the Venezuela situation which has been strongly criticized by Mercosur founding members".
Likewise Astori said that the current regime in Venezuela can only be described as "profoundly authoritarian". It is evident, "the authoritarianism with which the president and the executive branch are leading Venezuela and how they refer to other branches: one of the them, the Legislative, has been virtually annulled and the other, Judiciary they command at their wish. Thus there is no way it can be said that Venezuela is a democracy".
However when all this was happening in Uruguay, a strong ally of the Vazquez government, the chairman of the country's powerful labor unions federation, PIT-CNT, Marcelo Abdala was in Caracas next to Maduro in his broadcasting propaganda program expressing support and solidarity to the Bolivarian revolution from the Uruguayan labor movement.
Furthermore Abdala argued that what happened in Venezuela was not a coup but rather "contempt" from the National Assembly and a litigation between two government branches which was finally ruled.
In Montevideo a divided labor unions federation came out with a five point conciliatory statement, which begins describing the great assault of capitalism in countries with serious problems such as Paraguay, Mexico, Honduras and Brazil. In the first point there is a commitment "to fight indefatigably for peace"; second point refers to self determination; third point blames the big media for interfering with the region's problems; the fourth point calls on Latin American peoples to "resolve their destiny" and finally a broad solidarity with Venezuelan workers.