Uruguay's March inflation finally drops to the Central bank target range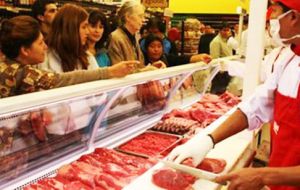 Consumer prices in Uruguay rose 0.68% in March, the government said in a statement on Wednesday, bringing the country's 12-month inflation rate to 6.81%. It was the first time since December 2010 that Uruguayan inflation was within the country's 3% to 7% target range.
The INE stats office added that inflation in the first three months of the year was 3.81%. In January the twelve month inflation reached 8.27% and in February, 7.09%.
Regarding food and beverage, bread and cereals was up 0.89% in March. Meat climbed 0.35%, pushed mainly by higher poultry prices, 3.47%. However fruit prices were down 4.55%, given good harvests of apple, peaches and citrus. But vegetables climbed 7.67%, mainly because of adverse climate conditions.
The item Housing was up 0.41%, with rents increasing 0.50%, while Transport also climbed 1.29% because bus rates, urban and long distance jumped 8.3% and 5.43%.
On the other hand prices linked to the US dollar, (which has depreciated against the Uruguayan peso), such as cars, air tickets and car rentals dropped between 6% and 11.40%.
Central bank chief Mario Bergara had anticipated on March 30 that Uruguay would re-enter its target range "sooner rather than later", after the government reported that February's 12-month inflation rate was 7.1%.