Nigel Farage proposes a Gibraltar referendum to become part of the UK
Friday, April 7th 2017 - 09:55 UTC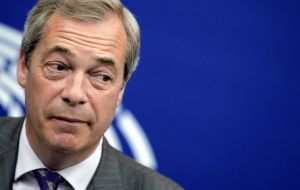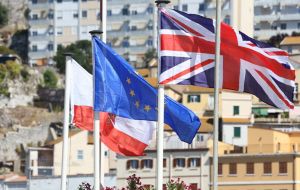 One in three people in Britain would cede at least some sovereignty over Gibraltar for a better Brexit deal according to a YouGov poll made public this week. The poll conclusions were released when Nigel Farage, Britain's leading Brexiteer expressed support for proposals to hold a referendum in Gibraltar to ask whether they want to become part of the UK.
A new YouGov survey shows that a third of people would be willing to cede at least some sovereignty over Gibraltar to Spain in order to get a "much better" Brexit deal for the UK. A slightly higher proportion (37%) would not countenance such a move, whilst 30% don't know.
The question asked was: If the status of Gibraltar was the only thing preventing the UK from getting a much better Brexit deal, would you support passing at least some sovereignty over the territory to Spain? 3623 UK adults were questioned on Monday of this week.
Farage said he supports Ukip's proposal for Gibraltarians to hold a referendum and be given their own MP and devolved powers which are currently enjoyed by Scotland, Wales and Northern Ireland.
Speaking at the European Parliament's Brexit debate UKIP Leader Paul Nuttall said the Rock was not a pawn to be used in Brexit talks, and" she is not for sale". Presenting his solution to the Gibraltar issue, Mr Nuttall said "let them become part of the UK, and give them representation in Westminster if they wish."
Meanwhile writing in the Telegraph yesterday ahead of the European Parliament debate, Mr Farage, argued that if the people of Gibraltar were to vote to become part of Britain, it would "no longer be a pawn in the EU's negotiations and Mr Tusk would have to scrap Clause 22 of his document".
"The whole point of voting Brexit was to take back control of our lives and make our own decisions. None of this compares to what is being said about Gibraltar, which makes any potential deal completely and utterly impossible" underlined Farrage