Brazil planning concession auctions for another ten airports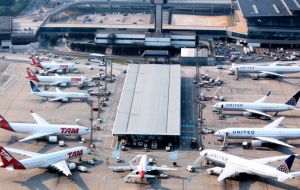 Brazilian Minister of Planning, Development and Management, Dyogo Oliveira said the government is considering awarding concession contracts with the private sector for at least another ten airports. Potential terminals include Goiânia, Vitória and Recife, according to the minister.
The airports of Guarulhos (São Paulo), Santos Dumont (Rio de Janeiro), Manaus and Curitiba are most likely to remain under the administration of the state-controlled Brazilian Airport Infrastructure Corporation (INFRAERO), but this is also debated by the government.
"The whole process is being discussed, it's all up for debate. We're discussing which airports should be retained by INFRAERO and which should go into a new round of concessions," Oliveira said in the sidelines of the Latin American Conferences held by the Council of the Americas in Brasília.
According to the minister, it is not yet clear whether the next contracts will be tendered in a single round. "We'll have airports coming in as each project gets ready to go," he explained. He said the government is considering a long list of airports that could potentially be awarded, but believes the auctions will not take place until next year.
Last week, the government awarded concession contracts for the Fortaleza, Salvador, Florianopolis and Porto Alegre airports with a 93.7% premium.