Falklands' teenager will spend a month in Uruguay on an scholarship program
Tuesday, April 11th 2017 - 16:52 UTC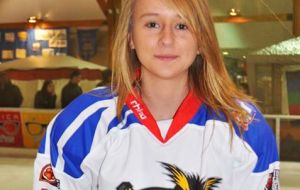 Falkland Islander Darby Newman (15) will have the opportunity to spend over a month in Uruguay on a student exchange program. Darby applied for, and was awarded, the scholarship offered to a Falklands student by the American Field Service (AFS).
Speaking with Penguin News, Darby said that she decided to apply, "because I thought it would be a great way to see and learn about a different culture, and also because I've never been away from the Falklands by myself before and I thought it would help me to be more independent."
Asked what she was most looking forward to she said: "Meeting new people and seeing what it's like to live in Uruguay, and learning Uruguayan Spanish as well."
The scholarship is collaboration between the Falkland Islands Government, set up by MLA Barry Elsby, and the AFS.
The aim is to promote, "intercultural education through immersion in a different culture."
Darby leaves the Islands on July 8 and will away until August 19, but says she has to "get through my exams first". (Penguin News)