Argentina "a divided country", which needs to promote the "culture of dialogue and honesty"
Saturday, April 15th 2017 - 10:17 UTC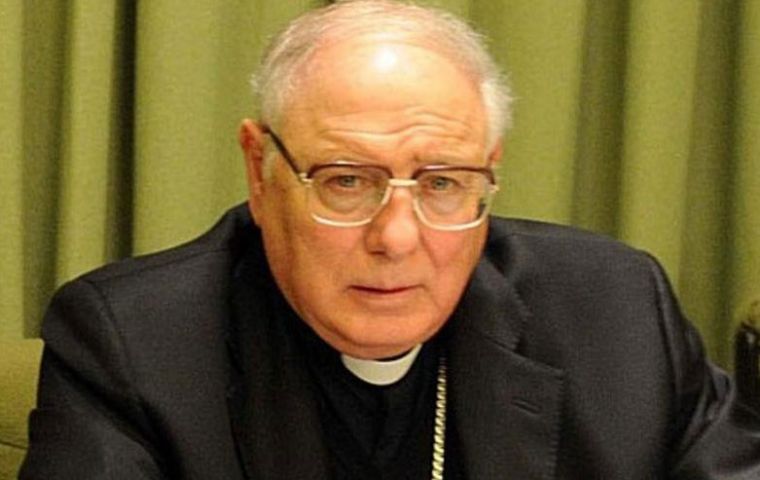 Argentina is "a divided country and does not solve the problems of the people", said the Catholic Church in its Easter message, demanding a "culture of dialogue and honesty" in the framework of the country's institutions.
Monsignor Jose Maria Arancedo, president of the Argentine Episcopal Conference said Easter is "always the start and hope of new life", and in this Easter "I can't stop thinking of all the victims of violence which reflects a sick society which has lost the sense of value and respect for life".
The message referred to the deep "gap" that divides the Argentine society and insisted in the need for dialogue. Most probably Arancedo was referring to recent clashes with pickets and strikers, and the ongoing conflict with teachers that have impeded a normal start of the school year.
Likewise he regretted the standing disagreements which condition the country and make it so hard for Argentines to converge "from diversity". A divided country can't find solutions to people's problems, particularly the most vulnerable and most needy.
"We urgently need to recreate a culture sourced in dialogue, respect, honesty and examples, always in the framework of the country's institutions and powers as an authentic expression of democracy"
"This is painful and shameful, but it must not defeat us or let us drop our arms when it comes to dignity, defense of human life, the search for truth and justice, in love, in concord and in peace", underlined Arancedo. "Easter is God's support, in Jesus Christ, which reinforces our hope and encourages commitment with these ideals".
Arancedo added that this Easter all Argentines should again repeat the Motherland Prayer, which bishops drafted during the 2001/02 deep crisis and which states, "We want to be a Nation, a Nation whose identity is passion for truth and commitment for the common good. Oh Lord bestow on us the wisdom of dialogue and the joy of hope that does not let us down".
"I pray to the Lord that we can take advantage of the time to deepen in our condition of children of God, who is the Father and loves us, and as brothers discover ourselves, so together we can feel part of a Motherland that needs us and expects the best of each of us. Happy Easter", concluded Monsignor Arancedo's message.