Le Pen promises voters a moratorium on legal immigration: "Give us France back"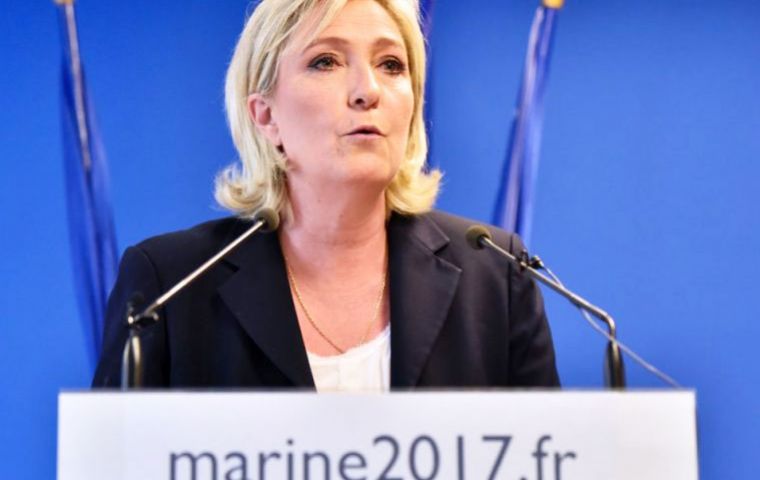 Far-right French presidential candidate Marine Le Pen called for a moratorium on legal immigration in a Paris campaign speech. As her campaign reaches its final week before the first round of elections, it was the first time Le Pen said she would, as president, suspend all immigration to France.
On Monday, she told the rally that recent immigration of largely Middle Eastern and North African migrants is a "tragedy for France," adding "I would decide on a moratorium on all legal immigration to stop this frenzy, this uncontrolled situation that is dragging us down." She called for "much more drastic, more reasonable, more humane, more manageable rules" and said "The French were no longer at home in France."
"Behind mass immigration, there is terrorism. Give us France back. I have heard this appeal everywhere I have been."
The 90-minute hard line speech was aimed at satisfying her grassroots supporters, according to the left-wing French newspaper Liberation.
The first round of the presidential election is Sunday, with 11 candidates entered. Le Pen is in a tight race for the lead with centrist Emmanuel Macron, opinion polls indicate, with conservative Francois Fillon and leftist Jean-Luc Melenchon following. A May 7 runoff election between Le Pen and Macron is expected, and polls suggest that Macron would win.
Macron has 24% of the poll respondents, with Le Pen at 23%, Fillon with 19.5% and Melenchon with 18%, a survey for the French television news channel BFMTV indicates. About one-third of eligible voters remain undecided.