Police unions storm Congress in Brasilia to protest pension reform bill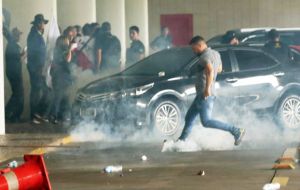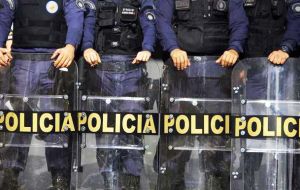 Brazilian President Michel Temer on Tuesday made new concessions to ease passage of an unpopular pension reform bill, leading police unions to try and invade Congress in the latest angry demonstration from a labor group.
The watered-down proposal, which has faced pressure from skittish lawmakers, has raised doubts among investors about how close it will come to the original goal of narrowing a huge and growing budget deficit.
After the details of the new proposal were revealed on Tuesday, protesting police unions clashed with congressional guards in riot gear, who used tear gas and stun grenades to disperse the demonstrators from the front doors of Congress.
The protest underscored the unpopularity of a reform that is at the heart of Temer's austerity program, which aims to rescue the Brazilian economy from its deepest recession on record.
Temer agreed to set a lower retirement age for women, police, teachers and rural workers and grant more generous transition rules for workers after allies' concerns delayed the bill's formal presentation in Congress until Wednesday.
Finance Minister Henrique Meirelles said in an interview that the changes will reduce government savings from the reform by 20% to 25% in the next 10 years, and by nearly 30% over a 30-year horizon.
Meirelles said changes to the original bill were within the government's expectations, and he did not expect further modifications as the proposal makes its way through Congress.
Some analysts have a dimmer outlook. In a note to clients, JP Morgan analysts said the changes could mean savings of just 472 billion Reais, down 40% from 781 billion originally.
Pension reform is a contentious issue in Brazil, which has one of the world's most generous social security systems and an average retirement age of 54. Investor concerns over potential delays to the reform have weighed on demand for Brazilian assets in recent days.
Adding to setbacks for the government on Tuesday, the lower house voted down an effort to fast-track another reform proposed by Temer to modernize labor laws, making work contracts more flexible to improve Brazil's business environment. House Speaker Rodrigo Maia said the setback was the result of a parliamentary error, leaving open the possibility of another vote.