Special by election turned into a challenge to Trump ends in a June runoff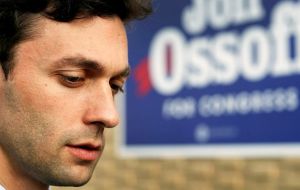 The special election for United States Georgia's 6th Congressional District will go to a runoff in June, CNN projects, as no candidate secured 50% or more of the vote. Democrat Jon Ossoff and Republican Karen Handel will face off, following a race that had 18 candidates.
Ossoff faces an uphill battle in the Atlanta district that has voted reliably Republican for years. His win would be a warning shot for President Donald Trump.
The 30-year-old investigative filmmaker aimed for an outright win in the 6th District race, but a furious Republican counterattack joined by President Donald Trump appears to have kept him under 50 percent.
A Democratic victory would be an embarrassing defeat in a district held for decades by Republicans, and Trump's opponents would have cast it as a devastating rebuke to his administration. Republicans downplayed the implications, saying Ossoff benefited from a cocktail of money, national attention and enthusiasm that's nearly impossible to replicate.
He goes into a June 20 runoff against Karen Handel, a Republican who will try to unify the party after vicious weeks of internal GOP feuding.
Ossoff outperformed Hillary Clinton in Cobb and DeKalb counties and was running ahead of Clinton's numbers in Fulton County as well.