French first round presidential election on Sunday has no clear winner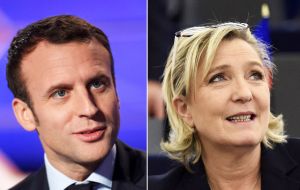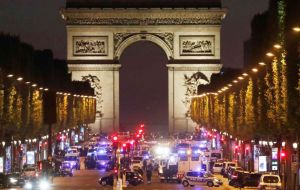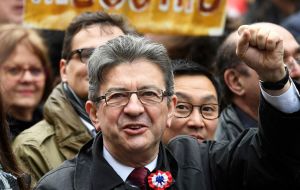 French centrist Emmanuel Macron is set to come out on top in the first round of France's presidential election on Sunday as far right leader Marine Le Pen fell further behind him in an Elabe poll published on Friday. However, neither is totally assured a spot in the May 7 runoff round as both conservative Francois Fillon and hard-left candidate Jean-Luc Melenchon were seen narrowing Macron and Le Pen's lead over them.
Provided Macron and Le Pen do make it to the second round, the former economy minister was projected to win with 65% against 35% for Le Pen, the survey for BFM TV and L'Express magazine showed.
It was conducted on Wednesday and Thursday before a shootout on Paris' Champs Elysees avenue that left a police officer dead and was claimed by the Islamic State.
The poll found that Macron was set to win 24% of the vote in the first round and Le Pen would get 21.5%, with his score steady from the last time it was conducted three days earlier while hers was down 1.5 percentage points.
Fillon, who has slowly clawed back some ground lost after being hit by a fake jobs scandal, saw his score in the first round rise half a percentage point to 20%.
Melenchon, who would hike taxes on the rich and spend 100 billion euros (US$107 billion) of borrowed money on vast house building and renewable energy projects, gained 1.5 points to 19.5% as he built further on momentum he has seen after strong performances in television debates.
If Melenchon makes it to the runoff, he is projected to beat both Le Pen and Fillon by comfortable margins although he is seen losing to Macron 41% to 59%.
The number of people surveyed who expected to definitely turn out for the first round rose to 71%, the highest so far during the campaign although that is nonetheless low by historical standards