Brexit key players: Theresa May, Juncker and Barnier meet at Downing Street
Wednesday, April 26th 2017 - 08:39 UTC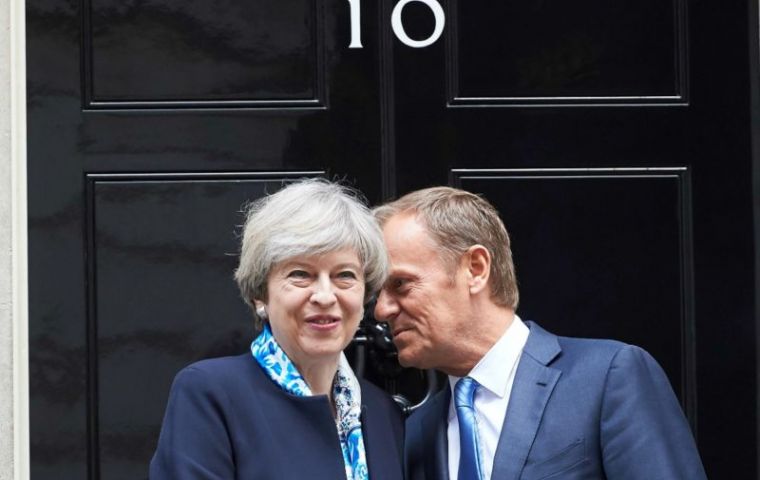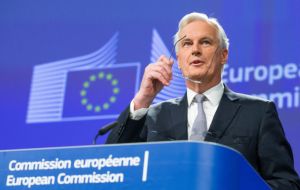 British Prime Minister Theresa May will on Wednesday hold talks with EU Commission head Jean-Claude Juncker and chief negotiator Michel Barnier, ahead of a summit to set the bloc's Brexit "red lines". In the first such meeting between the three key players, they will discuss the upcoming negotiations on Britain's withdrawal from the European Union over dinner at May's Downing Street residence.
Brussels has hardened its position in recent days, making new demands over financial services, immigration and the bills Britain must settle before ending its 44-year-old membership of the bloc.
The leaders of the other 27 EU nations will meet on April 29 to formally approve the guidelines for Barnier, the EU's chief negotiator for Brexit, although the talks will not begin until June.
It is the first meeting between May and Juncker since the British leader triggered Article 50 of the EU's Lisbon Treaty on March 29, launching the two-year divorce proceedings.
Juncker follows in the footsteps of European Parliament President Antonio Tajani, who met May in London on April 20, and European Council chief Donald Tusk, who visited Downing Street on April 6.
May's spokesman said the visits show that Britain "will be approaching the negotiations in a constructive manner and with great goodwill".
But new draft negotiating guidelines, agreed on Monday by Barnier and European diplomats point to months of difficult talks ahead. They suggest the other 27 EU leaders will seek to hold Britain liable for the bloc's costs for at least a year after it leaves in 2019 -- longer than was previously proposed.
They insist that Britain's dominant finance industry will not necessarily be tied to any future trade deal with the EU and that it must also stick to the bloc's rules if it wants easy access to EU markets.
Britain will also be required to give EU citizens permanent residency after living there for five years, in a challenge for the British government, which has vowed to limit immigration.