Argentina pays for the first batch of 24 T-6C training aircraft for its Air Force
Thursday, April 27th 2017 - 10:27 UTC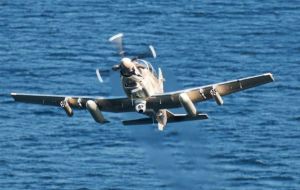 Textron Aviation's Beechcraft has received an US$88.2 million contract to supply the Argentina Air Force with T-6 aircraft. The U.S. Air Force contract calls for Beechcraft to supply four T-6C airplanes as well as maintenance, pilot training and interim contractor support for maintenance.
The US Department of Defense said the T-6 trainers along with supplies and services to support a training aircraft replacement effort as well as surveillance and border security missions of the Argentine air force.
Argentina intends to procure 24 T-6C+ units and support services from the U.S. government under a US$ 300 million FMS agreement the State Department approved last year.
Beechcraft's T-6C system is designed to help military pilots prepare for real-world missions and consists of training courseware, media-integrated lectures and computer-based training and management systems.
Work under the sole-source contract will occur in Wichita, Kansas, through April 30, 2018. The Air Force Life Cycle Management Center in Ohio is the contracting activity.
The order is likely a welcome one for Textron Aviation, which has seen demand for the T-6 wane after it completed its deliveries last June of the military airplane to the Navy and Air Force under the Joint Primary Aircraft Training System program.