Trump receives Macri at the White House; the Argentine leader spent his first day with the oil industry in Houston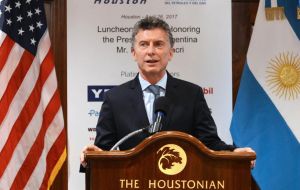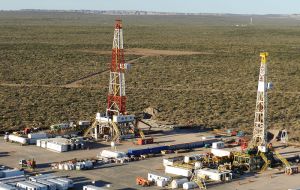 Argentine president Mauricio Macri is scheduled to meet with his peer Donald Trump at the White House on Thursday to discuss trade and other bilateral agenda issues, the Venezuelan situation and regional and world affairs. This is Macri's first official visit to the US as president, although his administration had strong support and very close relations with ex president Barack Obama.
Macri's two day US visit took off on Wednesday in Houston where he visited factories linked to the oil and gas industry (Teneris and Dow) and later met with the CEOs from XTO-Exxon and Halliburton. This was followed by a conference at The Houstonian Hotel Club to the most select leaders of the oil and gas industry, on the potential of Argentina and plans to develop the massive shale deposits in Neuquen, which in 2019, he anticipated, will receive investments of 20 billion US dollars.
The president and First Lady Juliana Awada have been hosted at Blair House, next to the White House where at midday Thursday they will be received by president Trump and Melania Trump. After complying with protocol, signing the Book of Honor and session of pictures, the two leaders will hold a private conversation, followed by a meeting of the visiting delegation and their US peers, during a working lunch.
The Macri delegation includes foreign minister Susana Malcorra; Production minister Francisco Cabrera; Energy minister Juan Jose Aranguren; strategic affairs advisor Fulvio Pompeo; cabinet chief Marcos Peña; Senator Guillermo Pereyra; presidential spokesperson, Ivan Pavlovsky and acting ambassador in Washington Sergio Perez Gunella.
US officials at the meeting will be vice-president Mike Pence; Secretary of State, Rex Tillerson; Secretary of Commerce, Wilbur Ross; cabinet chief Reince Priebus and other top representatives.
Thursday afternoon Macri will be hosted by the think tanks Center for Strategic International Studies, CSIS, the Inter American Dialogue and the Brooking Institute, where he will also give a conference on Argentina's potential and resources. CSIS will be represented by its head, John Hamer, the Inter American Dialogue by Michael Shifter, and the Brooking Institute by Strobe Talbott and ex presidential national security advisor Zbigniew Brzezinski.
In Congress Macri will meet several senators among which speaker Mitch McConnell (Ky); leader of the minority Charles Schumer (NY); Bob Corker and Benjamin Cardin, chair and deputy chair of the Foreign Affairs Committee. In the Lower House the Argentine president will be received by Speaker Paul Ryan, Representatives Kevin McCarthy; Nancy Pelosi (minority leader), Steny Hoyer and Ed Royce from the foreign relations committee.
Before returning to Argentina where he is expected Friday morning, Macri will meet with CEOs from the US tourism and hotel industry, and will give a final, brief, speech before the US Chamber of Commerce.