Venezuela quitting OAS; death toll of demonstrations climbs to 33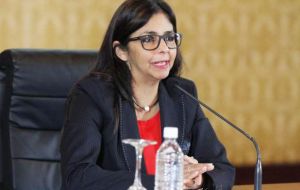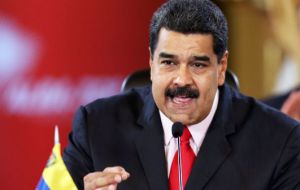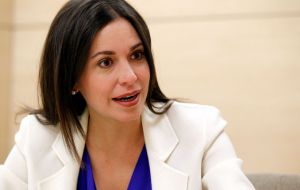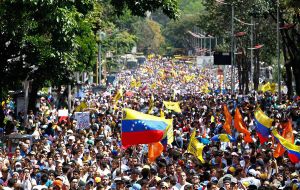 Following through on its threat, Venezuela's government announced on Wednesday it is quitting the Organization of American States, accusing the regional body of meddling in its internal affairs over weeks of political unrest. The step was taken just hours after violent clashes in Caracas between security forces and protesters during yet another march against the socialist government of President Nicolas Maduro.
Nearly four weeks of anti-government demonstrations have been blamed for 33 deaths, and the opposition is showing no inclination to pull back. Leaders called a march for Thursday to honor a college student who died during the latest violence after being hit by a tear gas canister fired by security forces.
Foreign Minister Delcy Rodriguez announced the decision to withdraw from the OAS after a brief but contentious meeting at the group's Washington headquarters in which its permanent council voted in favor of holding a special session to evaluate Venezuela's crisis.
International pressure has been mounting for Maduro to schedule delayed elections and free detained political activists. Rodriguez accused the OAS of seeking to "intervene and take custody of our country, something that fortunately will never happen."
Maduro sent out a tweet Tuesday night calling for support against outside meddling in Venezuela's affairs. "Enough of interventionist abuses and violation of legality," he said. "Venezuela is the cradle of the Liberators and we will respect it."
Rodriguez had warned late Tuesday that Venezuela would leave the OAS if the body proceeded with scheduling the special session. She said the pressure being brought by the U.S. on some members like Haiti to punish Venezuela had been considerable.
Tension has been steadily rising between Venezuela and a group of OAS members that includes the United States since OAS Secretary General Luis Almagro issued a 75-page report in March accusing Maduro's government of systematically violating human rights and standards of democracy. Almagro unsuccessfully urged OAS members to suspend Venezuela.
The withdrawal announcement drew quick rebuke from Venezuelan opposition leaders. Former congresswoman Maria Corina Macahdo said Maduro's exit from the OAS "formalized Venezuela's outlaw status."
Earlier Wednesday, thousands of protesters marched on Caracas' main highway seeking to deliver a message to the national ombudsman, whose job is to stand up for citizens' rights but who the opposition calls the "defender of the dictator." They were met with plumes of tear gas that sent demonstrators running.
Opposition leaders said Juan Pablo Pernalete Llover, a 20-year-old college student, was killed during the protests. He was a student in political accounting at Metropolitan University, which issued a statement saying the institution mourned the "early and unjust departure of this talented young Venezuelan, who gave his life in exchange for the highest values of democracy."
Ramon Muchacho, a Caracas-area mayor, said at least 22 others were injured, including 14 with serious. Elsewhere, children were evacuated from a school after being exposed to tear gas. In the evening, government officials reported two national guardsmen were wounded by gunshots in the same part of Caracas where Pernalete Llover was killed earlier.
In all, 33 people have been killed, more than 400 injured and nearly 1,300 detained in the month long unrest roiling the nation. The swell of protests is the most violent seen in Venezuela since two months of anti-government demonstrations in 2014 that resulted in dozens of deaths.